Write for us "Design"
Contribute " Design
From time to time, we get questions like, "Can I contribute to your website?" The answer is an absolute yes! At SelfCAD, we're dedicated to helping freelance 3D designers, both beginners, and professionals, to sharpen their design skills.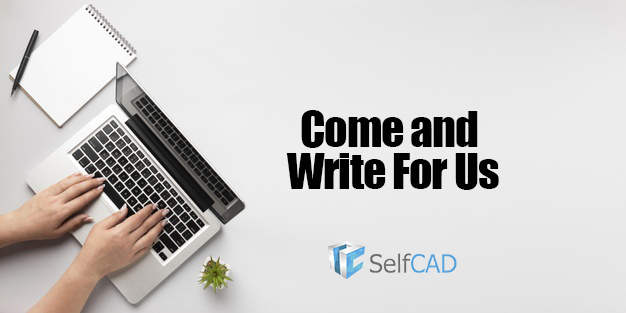 If you have an idea for an engaging post that you would like to share, we would love to hear from you! Tell us something about you, share with us the articles that you have written in the past, and the ideas for articles that you can write for us to help others! We're helping freelance 3D designers, small/medium businesses, schools, and course creators to bring their ideas to life.
Importance of Writing for SelfCAD
Writing for us will help increase your online presence and portray yourself as an expert in your area and you will be able to get more customers if you are a freelance writer. Having your name appear on a top design website like ours will help build your resume too.
Also, if your article is well researched, we will share it on our social media platforms and even on our newsletters.
However, just like any other publication, we maintain a unique style, and we stay on the topic. So any article sent to us must adhere to our requirements listed down below.
What type of Content We Accept?
We aim to publish articles of high quality that are inspirational to the design community. We publish content written by experts in the design industry who love what they do and who like sharing their experiences with others.
We accept articles that offer practical advice, tips and tricks on design, and articles that inspire and teach technical terms on 3D design, and more.
The articles that we publish touches on the following topics on design:
Freelance 3D design

Graphic design

Design resources

Design basics

Design tutorials

Logo and branding

Label and packaging design

UX/UI interface
How it works
If you want to write for us, you can shoot us an email to info@selfcad.com with your topic idea that you wish to write about, and once we approve it, you can go ahead and prepare it. In case you don't have any topic ideas, you can let us know, and we will suggest one for you.
Our Requirements
The article should be solving a particular problem in the topics mentioned above. So when pitching the title of your article keep this in mind. You can describe the problem the article will be addressing in a single paragraph.

Most of our readers are advanced users. So you need to write in a professional tone but using simple and easily understandable language.

Length: All our articles should be at least 1200 words with no maximum length limit.

All the articles should be original and should not have been published anywhere else or later posted after publishing on our website.

The article should be accompanied by 2-3 royalty-free visual assets that are related to the article.

The link inserted in the article will be a Dofollow if it's from a website related to us, otherwise, it will be a nofollow.

You should include your Bio in the article. If you have included a link to your website on the body of the article, you don't need to include it on the Bio as we allow only one link.

Aim to use short sentences and each paragraph should not have more than 4-5 sentences.

Always accompany your article with a short description which is a summary of the article.

Linking to SelfCAD: Where applicable, ensure that you link to other SelfCAD posts or to the homepage.

Ensure the article is well structured and easy to understand.

We don't publish promoted/paid content
Once Your Topic is Accepted, What next?
Once your topic idea is approved, we will send you key points that you need to include in your article before you go ahead to prepare it .

Once you are done with the draft, you send it to us for review.

In case there will be any required edits, you will have to work on them and send the article back to us.

Once the article is approved, we shall then schedule a date for publication. We will notify you about publication.

In return, we recommend that you may share the article on your social media accounts.
If the above sounds interesting to you, kindly send us an email us to info@selfcad.com, and we will get back to you as soon as possible.