Which is Best Home and Interior Design Software of 2021?
7 Best Home and Interior Design Tools, Apps, and Software in 2021
You must have come across elegant home designs that you love, and might be wondering why you're unable to create these designs by yourself. The reason you aren't making these designs might be because you lack the right tools, and apps needed for creating such home designs. It might also be that you still have a lot of learning to undergo before you become an interior designer able to produce high-quality home designs.
The truth is, we all save beautiful pictures of interior designs that we come across on the net, hoping that we might recreate them somehow. Most times, the problem is that you don't have the right tools to use or lack the knowledge you need to do it.
It would be nice if you could use 3D images to create photorealistic portfolios to give your customers a 3D outlook of the design idea, room layouts, and floor plans. However, choosing the best home and interior design software with which to create your design can be a very tough choice. The first thing that you need is a list of the best interior design softwares and their features. This will allow you to decide with ease the one that's the best fit for you.
This article was created to help you make the right decision. It contains seven of the best home and interior design software and its features, so you can pick the best one with which to move your home design business forward.
SelfCAD
SelfCAD is a powerful tool that you can also use as both your animation and 3D Modeling software. You can use it to model, slice, sculpt, and animate all under a single program without having to switch between different programs. This easy-to-use software works well for both beginners and professionals. You can slice models in this program using the inbuilt slicer, and the free-hand drawing and sketching tools bring out the artist in you.
A powerful feature of this app is its Image to 3D tool that's easy to use and which can turn any image format into a printable 3D model. It also has a magic fix tool with which users can fix their model magically and make it more printable. You can use it to design your model from scratch with ease, thanks to the screw and nut generators. SelfCAD is a powerful sculpting tool as well that allows you to sculpt your model in a way that makes it very real. It also has an animation feature that you can use with ease on your designs.
One of the most significant advantages of SelfCAD is that you can sketch your building interior with ease with its sketching and drawing feature then later convert the sketch into a ready to print 3D model.
Floorplanner
Interior design done in Floorplanner. Image source: Image source: Youtube
This is a simple and easy software to use, but it has plenty for power users. After dragging objects into your library, you can easily adjust the object dimensions. It will automatically create a list of products you previously used for your designs. Once your design starts looking cluttered and toggled, the texture and other details turn them on or off.
It has a 3D model with numerous adjustable cameras. The fun presentation mode also swoops from one camera to another, which is good for multi-room and large projects.
The software offers three subscription levels: free, $5 monthly, and $29 monthly. Overall, this app is excellent not just for interior designs but for outside spaces as well. It is easy to use, fast and flexible.
Virtual Architect Ultimate Home Design
This is one of the most popular interior design software, and it offers so many features. It is the most popular choice for both beginner and expert designers. This app has a drag-and-drop feature and is easy to use. It has a large library of landscape and household objects.
With this app, you can easily import floor plans and home photos or select one of the customized floor plan templates. The best feature of this software is the design wizards that help users create beautiful 3D renderings of decks, bathrooms, kitchens, staircases, etc. There are numerous objects such as brand-name appliances and furniture customizable with colors, textures, etc.
Other tools on this software include 3D virtual tours, material lists, cost estimator, night and daylight conditions. This app costs $99.99 and is available on Windows.
Sketchup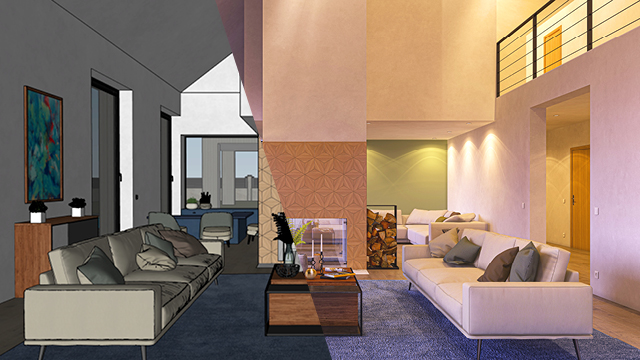 Project done in Sketch. Image source: Artlantis
Sketchup is another very popular home design software that is very handy and professional. It has an interface that you can easily get used to. It is also cleaner than most other complex softwares. Many professionals use this software because of its strong 3D modeling capabilities.
It is easy to create your interior design and use 3D visualization to give you a very accurate idea of how to plan for spaces. While it has a free version that everyone can use, you will get access to the full functionality of this app when you subscribe to it. According to proessaywriting.com, the subscription starts at $10 per month for starters and can cost as much as $1199 per year for professionals.
Cedreo
This interior design software is common among professional interior designers, remodelers, and home builders. It is used for creating 3D and 2D floor plans, as well as exterior and interior renderings.
This software is easy to use and intuitive, and users can quickly build their photorealistic designs with a library consisting of 7000+ pieces of customizable 3D decorations, materials, and furniture.
This software makes it easy for designers to show prospective clients what the finished projects will look like, thus making it faster to close contracts. This platform is cloud-based, so it is easier to make edits and meet clients.
Planner 5D
This software is mainly free to use but not entirely free. Designers looking to design high-quality renders will need to pay. The sales of these renders are made in bundles. 20 HD images cost $9.99, while 200 costs $49.99. You also have to subscribe in order to unlock a fuller catalog of objects that will allow you to get more renders as well.
This software is easy to use, and has a 3D mode that makes it more appealing. It is intuitive and fast, and will provide you with a good idea of what the interior design will look like. The WASD control also provides users what it takes when playing video games.
Although this software doesn't have some of the lighting controls that other apps have, it also produces outstanding results. The scene can be rendered into images at 900 x 675 or 640 x 480 once you have paid for the HD images. There's a wide range of items in the catalog, and the dimensions can be edited to match the items you choose.
Easyhome Homestyler
Homestyler was created initially by Autodesk in 2010. This is the same company that created 3ds Studio Max, REVIT, and AutoCAD. However, they sold the software in 2017 to Easyhome. It is an online free tool created to make home design easier and more fun. It's ideal for beginners because of the ease of use, free nature, and the large library of fixtures and furniture.
If you need inspiration, you can check the gallery of designs that more than two million users created. Also, it is possible to use the Homestyler app to snap pictures of real rooms and use 3D objects to design them. Users can earn points using this free app, and they can use the points to unlock more advanced features such as aerial renderings and HD panoramas.
Conclusion
There are so many other home and interior design apps, tools, and software in the market that offer similar features to the ones in this article. The ones mentioned here are some of the best in the industry and give you the features and ability to do more with your interior design business. With these softwares, you will be able to create high-definition, photorealistic images that are almost indistinguishable from actual photos.
Enjoy powerful modelling, rendering, and 3D printing tools without the steep learning curve.