What Do Graphic Designers Do & How to Become One?
Get to Know What Graphic Designers do in a Daily Basis
Description: Graphic designers know exactly how to use pictures and images to convince, captivate, and inform buyers. They help companies spread their message and sell their products through engaging visual designs.
What do graphic designers do? Graphic designers are masters at using images to communicate. They know how to choose the perfect shade of color combined with an aesthetic font to inform, convince, and convert shoppers to buyers. Influential graphic designers can visualize a company's message or product and enhance it.
Graphic design is everywhere. If something has a visual element, then it definitely features the work of a designer. Graphic designers produce website content, infographics, signs, boxes, logos, manuals, and every kind of content you can think of. A successful entrepreneur is well aware of the importance of graphic design in creating successful products. Visuals can have profound effects on us, as humans experience colors in a way that differentiates us from many animals. The best graphic designers can evoke powerful emotions in people who see their work, while at the same time quickly giving them the key information.
Types of Graphic Design Work
Graphic design appears all over the place, and you often engage in different types and forms of graphic design without even realizing it! The most common graphic design types include branding, advertising, User Interface, packaging, and motion. Let's look at these 5 types of graphic design in more depth.
Branding
Branding is the process of a company communicating its values, purpose, and goals to the customers in a unique and interesting way. Graphic designers help companies achieve this by creating logos, color schemes, and typography. Next time you see your favorite company's logo pop up with a tagline in a cool font, remember that a graphic designer created that.
Advertising
Companies use advertising to let consumers know that their products exist and also inform them on how they can enhance their lives and solve problems. Companies use multi-pronged strategies to advertise their products, but graphic designers play a key role. Graphic designers help companies design a range of advertising material such as billboards, print ads, email templates, Facebook ads, infographics and many more. As buyers are much more drawn to visual elements, graphic designers can have a profound effect on convincing a buyer to research a product deeper or make a purchase.
User Interface
With the rise of the internet and digitization of the economy, graphic designers have had to adapt their skillset to meet the needs of online consumers. With every company now having social media pages and a website and many having their own apps, graphic designers help companies attract and retain customers while also providing them with a welcoming environment. They achieve this by designing web pages, choosing colors and fonts, banners and forms. If you have ever browsed a website that felt inviting, was easy to navigate and was filled with great infographics, know that it was likely created by a skilled graphic designer.
Packaging
While packaging was originally used to protect and house physical products, companies quickly realized that they could increase their sales and inform their customers by using captivating designs and key phrases. Graphic designers help companies design labels, advise them where to place logos, what colors to use and fonts will pop, and help spread their message. If you have ever been shopping and your eyes locked onto a particular item, and you felt compelled to buy it, then you have experienced the power of well-designed packaging.
Motion
Motion refers to any design work that involves movement. With the rise of the first television and now the internet, motion has become a critical aspect of graphic design, especially considering the fact that over 70% of buyers are more likely to make a purchase after watching a product video. Graphic designers help companies create all sorts of motion content including GIFs, tutorial videos, teasers, moving logos and text, presentations, and banners. If you head to a company's website, you will be greeted with a range of motion content created by graphic designers.
What Programs Do Graphic Designers Use?
Great graphic designers have a range of skills and also use a range of different programs. If you want to be a famous graphic designer someday, then you better be a master of Adobe products. The programs designers should know to include Adobe's InDesign, Photoshop, and Illustrator.
Photoshop
Love it or hate it, but all graphic designers need to be Adobe Photoshop wizards. Adobe Photoshop is the undisputed king when it comes to photo editing apps. If you want to be a graphic designer, you will spend a lot of time in Adobe Photoshop resizing, adjusting color, cropping and editing images and photos. Designers also use this program to overlay text on images and come up with cool graphics.
If you want to master Photoshop and impress all of your graphic designer friends, then learn these Adobe Photoshop skills:
Using layers

- This allows you to build a complex image with depth that can really captivate a potential buyer.

Using layer masks

- Layer masks can transform your images from boring into can't take your eyes off them'. You can use layer masks to add new elements to your design naturally and make your designs pop.

Adding text and effects

- By including text in your designs, you can convey your message more effectively. A few lines of text can cause a company's conversion rate to shoot through the roof. You can also layer the text to create unique designs.

Including vector Graphics

- Adobe Photoshop is much more than just photos. You can really elevate your designs by including cool and interesting graphics. Vector graphics allow you to seamlessly place shapes or logos in your designs.
Illustrator
Graphic designers' logo skills can be showcased to their full abilities with Adobe Illustrator. The program is perfect for designing, drawing and editing logos. It is fantastic for creating cartoons, graphs, diagrams, infographics, charts, and, of course, drawings. Adobe Illustrator is also one of the best font websites for graphic designers. A skilled graphic designer will be able to choose from thousands of fonts to create a logo, sign, or content that can really raise a business' conversion rate. Did you know the top 10 most popular fonts for graphic designers can all be found in Adobe Illustrator?
These Adobe Illustrator skills will raise your designs to new heights. You will be able to:
Learn drawing tools

- Illustrator has so many drawing tools. If you learn them all, you will be able to draw any design your client needs.

Play with the curvature tool

- Straight lines are a must in graphic design. With Illustrator's specialized curvature tool, you will be drawing perfect lines in no time.

Use color

- Understand how to manipulate color to elevate your designs. Choosing the right color can turn an average design into a showstopper.

Master overlapping

- By overlapping different images, you can transform your design and tell a completely different story. Composition is an important graphic design skill, and the overlapping tool can take your skills to a new level.
Very few graphic designers can boast of being experts in all these different Adobe programs, but that doesn't mean they should stop developing and growing their skill set. If your company's specialists do not possess any of the skills mentioned above, you can always outsource graphic designers by contacting a specialized agency or finding a freelancer online.
How Do You Get a Job as a Graphic Designer?
To get a job in a graphic design agency or as an in-house graphic designer for a company, you must be well skilled. You will most likely need to get a bachelor's degree in graphic design, graphic art, digital art, or another similar artistic field. Graphic designers need to understand the underlying principles of modern art. They need to understand the power of composition, how to use color and different fonts to paint a picture or evoke a certain emotion. These artistic skills need to be combined with savvy digital skills. Graphic designers are expected to know web design and online design programs.
While in an ideal world, a graphic designer's resume should feature fancy degrees from top-tier design and art schools, what matters most is a graphic designer's portfolio. Companies and agencies only care about degrees if they are selecting between designers with similar styles and artistic skills. The way graphic designers showcase their skills is through their portfolios, which are often featured on the graphic designer's website. This is where they include a selection of their best projects. By showcasing their work, clients and employers can quickly gauge the graphic designer's skill level and determine if they would be a good fit.
If you have never worked as a graphic designer, you may wonder what to include in your portfolio. Don't worry. It is totally fine for beginners to include their work or things they completed for school projects. If you are applying for a junior or graduate graphic design role, employers aren't expecting you to have an amazing portfolio.
A great way to land a graphic design job is to get some experience as a freelancer. You can use freelance platforms such as Fiverr and Upwork, which make it easy for clients all over the world to find graphic designers.
These platforms are oversaturated, but you can quickly win a few clients if you start off by offering a low fee. This will allow you to start building a paid portfolio. Then, when it comes to applying for a serious agency job, you will be a step ahead of your fellow university graduates.
Learn 3D Modeling to be Competitive in the Market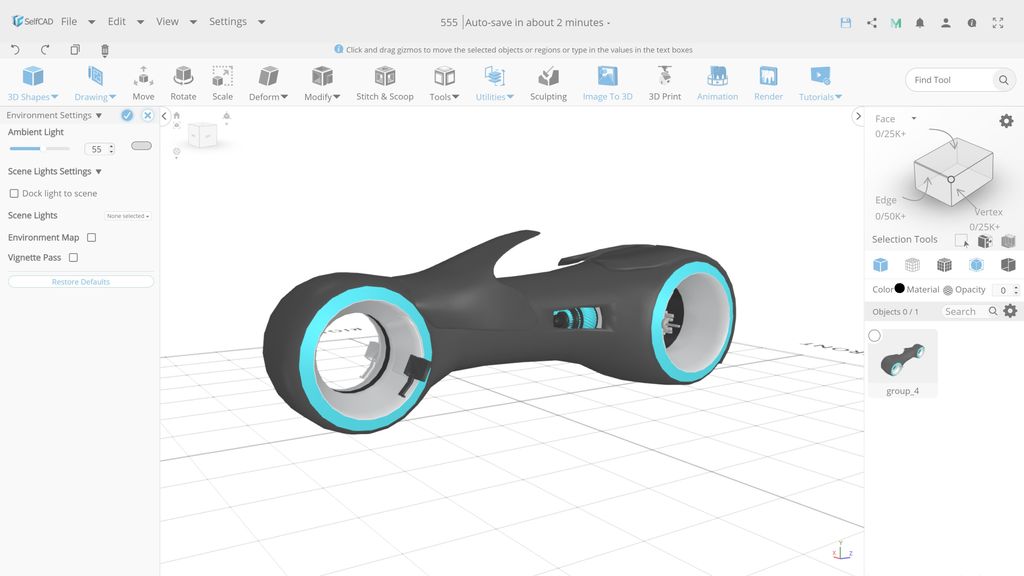 Because there is always high competition in the job market, it's advisable to set yourself apart from the rest. One of the ways to do this is by adding more skills. One of those skills is 3D modeling. With 3D modeling, you will be able to create designs that otherwise are difficult to create with only graphic design skills. A good example is 3D graphics. Preparing these in 2D programs like Photoshop takes much time and requires a lot of effort as compared to using 3D modeling software. Also, sometimes when working on web graphics, you might be required to create 3D assets and having 3D modeling skills will set you apart from other graphic designers.
Though many designers would usually wish to learn 3D modeling, getting started is a challenge, mostly because of the complexity of the 3D modeling software. But thanks to easy to use Software like SelfCAD. You can get started in SelfCAD with much ease. Unlike most of the common software that one learns using videos and long guides, with SelfCAD, though there are videos and guides to help you get started, there are also step-by-step interactive tutorials that you can follow easily and be able to learn about the software much easily.
So there you have it, to give you the best shot at landing your dream graphic designer job: get a bachelor's degree in graphic design from a top university, build a portfolio through freelance work, university projects, and personal designs. Then, once you finish your studies, apply for junior and graduate design roles at agencies or companies.
Conclusion
Graphic design is a fascinating and fulfilling career. You can use your creativity and artistic skills to impact the world. Your designs can be used by the world's biggest brands and be seen by literally billions of people. You can profoundly affect people who view your designs and invoke a range of emotions while also informing their worldview.
If your goal is to become a professional graphic designer, then you need to develop some specialized skills. You can't go wrong by becoming an expert in Adobe's creative suite and focusing heavily on mastering InDesign, Photoshop, and Illustrator. If you combine these Adobe technical skills with a bachelor's degree in graphic design from a leading university or art school and work hard on building an amazing portfolio, you will have no problem landing a job at a graphic design agency or as an in-house designer.
Please comment below about your experiences in graphic design. How did you land your dream job, and what designs do you typically create?
Author's Bio:
Emily Moore is an English & programming teacher with a passion for space and blogging. She believes that current exploration should be focused on preserving our planet's resources. With satellites circling the orbit, it is easier to get relevant data on any environmental changes. This, in turn, should help people quickly address any challenges.
---
Enjoy powerful modeling, rendering, and 3D printing tools without the steep learning curve.

Was this blog post interesting or helpful?