Top Graphic Design Scholarships And How To Get One
Top Graphic Design Scholarships And How To Get One
Image source: Pexel photos
Entering a graphic design school has lots of advantages. You can work in different fields and earn a lot of money. That's why it's good to look for some of the best scholarships in graphic design and learn more about it. Graphic designers create visual concepts to inform and engage consumers. Designers mostly work with both text and images, combining art and technology to convey ideas. Essentially, they create logos, original images and illustrations, everything that makes a company, product, brand, or anything else recognizable. And that's helluva work.
How To Get Experience
Before embarking on this journey, you need to learn about the world's best graphic designers and be inspired. Such people have become legends in the world of design and for a good reason. They have managed to pull off something that others could not. Such designers are usually recognized by their distinct style and approach to design, something that cannot be found in the works of others. And no, those are not necessarily some strange abstract works. But they still have something about them that cannot be explained with words. Some of the following names might ring you exactly that kind of bell.
David Schwen. Among his customers are Apple, Levi's, and Nestle. Posts color combinations on Instagram, such as wasabi and soy sauce, green peas and carrots, bacon and cheese, lemon and lime, ketchup, and mustard, and other products.

Famous designer Jessica Walsh in New York. Founder of Sagmeister and Walsh. Its designs are retro-bright and have been heavily influenced since the 1950s. Jessica's clients include the Museum of Modern Art, the Jewish Museum, Jay-Z, Snapchat, Barneys, The New York Times, Levi's, and Adobe. Included in the Forbes list of "30 creative designers of the future under 30 years."

Alexey Trokhut is a well-known graphic designer in New York. He constantly pushes the boundaries when it comes to creating designs with interesting shapes and colors. His art is appreciated by Katy Perry, for whom Alexey created the cover for the single Roar in 2013.
In addition to getting tips from the experiences of others, you also need to pave your own way and try to be different. One of the ways you can do this is by learning graphic design on your own whenever you get the opportunity. There are many materials on the internet on Youtube, Udemy, and many other platforms.
After getting the basics of graphic design, it's also recommended that you add more related skills like 3D modelling as there are some designs that cannot be designed only through graphic design. For example, designing 3D assets is easier in a 3D modelling software than when one is using a 2D program. 3D modelling also makes it easier for one to create realistic renders that look exactly the same with the products in real life. Applying renders and lighting is something that takes really a lot of time and effort but when you use 3D modelling software, it becomes easier.
The only challenge with 3D modelling is that it takes a lot of effort to master because most of the available programs are complex and difficult to get started on. However, with programs like SelfCAD, you can get started much easily and you can create realistic and complex models with much ease.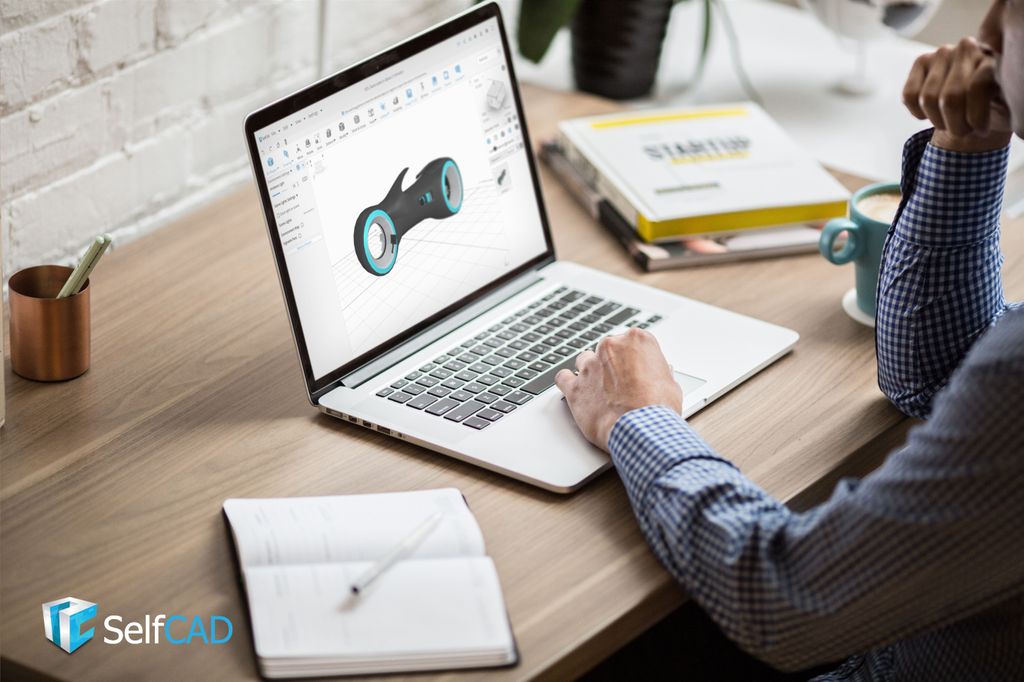 Scholarships For Design Studies
Graphic designers usually need a bachelor's degree in graphic design or a related field, which costs a lot of money. On average, a domestic student will pay just a touch less than $15,000 annually to earn a bachelor's degree in graphic design. The number goes a little below the $50,000 mark for international students. You can become a graphic designer yourself, but first you will need to learn all the tools and theory yourself, which is not easy.
A scholarship is what makes learning more accessible. Most design schools have their own scholarship programs, which are often funded not only by the school but also by successful graduates. International companies, NGOs and the government also fund design scholarships.
YMA FSF Case Study Competition Scholarship

is an American scholarship program. Its goal is to encourage gifted students in design, merchandising, retail and business, ensuring industry development and at the same time attracting dedicated, hardworking and creative people. The scholarship includes a $5,000 award, an internship in the United States, a mentoring program, regional networking events, and an invitation to join an alumni association. You can learn more

here

.

DAAD Fine Art, Design / Visual Communication and Film Scholarships is a scholarship program of the German Academic Exchange Service for students who want to study for a master's degree or postgraduate program in Germany. The scholarship fully covers the costs of studying at German universities. Quite a bargain,

which is worth

looking into for sure.
Vector Blocks Design Scholarships is an American scholarship program for undergraduate and graduate students. The winners receive a scholarship to the tune of 3,000 to 10,000 dollars.

Here

, you can find out more and apply for available scholarships.

NABA, International Academy of Arts and Design Scholarships is an Italian scholarship for students who want to study design for a master's degree at the Nuova Accademia di Belle Arti. The winners receive funding for 25, 40, 50, and 60% of the training cost. You can and should find out more and apply

here

.
We have compiled a list of the best colleges for graphic design where you can also get a scholarship.
RISD is listed as one of the best graphic design schools in the world. The school is consistently among the best art schools in the world. RISD scholarships are awarded based on financial need. Recipients of

RISD scholarships

must apply for financial aid each year. RISD offers several scholarships each year to first-year students who exhibit outstanding academic and artistic achievement but do not necessarily demonstrate need. Two awards of at least $10,000 are made to students participating in the National YoungArts Foundation competition and two awards of at least $ 10,000 are made to participants in the Scholastic Art & Writing Awards.

Yellow Ribbon Program, which provides additional financial assistance to veterans who qualify for 100% of Post-9/11 educational benefits. RISD provides scholarship assistance to the tune of $10,000, which is augmented by the federal government to a total of $20,000.

RISD provides a matching Americorps award of up to $5,550 to two students each year. Students must provide a copy of their letter of eligibility for the Segal Americorps Education Award no later than April 1 of each year. This award is granted on a first-come, first-served basis.

RISD is in partnership with Scholarship Universe, an online portal that works to match you with outside funding opportunities. Sign in with your RISD account and answer questions to build your profile, which will provide you with information on scholarships you may be eligible to apply for. The portal allows you to save scholarship results and receive emails about deadlines.
BU is a great place for networking and further development of design and research. In fact, the Master of Arts program in Graphic Design at BU is one of the best in the world.

Scholarships to the College of Fine Arts

are granted to students who demonstrate outstanding artistic talent in an audition or through a portfolio review. Please visit the School of Music, Theater, or Visual Arts websites for information about portfolio requirements and auditions. BU offers a wide variety of merit scholarships, some even covering full tuition, to recognize high achieving students who go above and beyond. While criteria vary for each scholarship, recipients must typically rank in the top 5% of their high school class showing incredible extracurricular achievements in their schools and communities.
California University of Pennsylvania's online bachelor's programs rank 6th out of more than 1,200 programs surveyed. Cal U and its Foundation for the California University of Pennsylvania

offer scholarships

that are made available through gifts from individuals or corporations. The university is one of the most affordable online graphic design schools on our list. In some cases, you might need to introduce yourself in a brief essay. If you need help with it, just go to

essay help websites

and see how it's done professionally. Possible scholarship sources include the Boy Scouts, Elks, Rotary Clubs, Kiwanis, Lions, Knights of Columbus, unions, churches, corporations, and places of employment.

CalArts is one of the best graphic design schools in the world. In addition, the California Institute of the Arts is the best American college for art students according to Newsweek/The Daily Beast. There are lots of different scholarships offered, like institutional scholarships, endowed and annually funded ones, the Federal Pell Grant, and many more, all of which you can find

here

. All of the grants are quite generous, so there's no point wasting your chance.
Graphic Design As A Lifestyle
Image source: Pexel Photos
Musicians convey information through sounds. Dancers do that with a little help from their movements. Graphic designers do that through an image. A graphic designer is a person who creates visual information. Logos, diagrams, signs, posters, everything that can be conveyed through a picture. A graphic designer is one of the most popular professions in the labor market, and for a good reason. New companies and products that need design appear every day. There are many specialists, but there are only a few really talented and professional designers who will not just make a design but will be able to convey the philosophy of a business to the consumer. Such people are highly valued by customers and employers.
Yet, learning to become a true professional in graphic design might not be the easiest of tasks. One thing that you'll inevitably need in this occupation is constant self-development and personal growth. Without it, it's going to be very hard to make a living. This means that while learning design, it might be hard or even impossible to do extra work after classes in order to concentrate on your art and vision. That's when various scholarships and grants come into play. Be sure not to miss the one you see fit for your future, but go for it instead. There's no better time than now.