The Best Tips for Negotiating as a Freelance 3D Designer
7 Tips that you can use to Negotiate When Dealing with your Clients
While the creative side of the business may be a breeze, getting the most financial gain from your work can be daunting. Whether you use your own online platform or a marketplace to find customers, you will often have to negotiate to land the best rates.
This article will explore some of the best-negotiating tips to help give your freelance 3D design business a boost.
1. Use your website
As a 3D designer, it's important to have a website where you showcase your designs. Whether you sell through your website or not, you can use your website to warm up customers and build trust by showcasing your best work. Your site can also illustrate your work ethic through the testimonials of your past clients.
Display your price list on your site for customers to get a realistic picture of your service before you begin negotiations. Showcasing your prices helps filter out customers who want to pay well below your rates, saving you valuable time.
The price list will also act as an anchor to keep prices from falling too far from your expectations. It's often the case that in negotiations, the first price put forward becomes the anchor around which the final value will range.
Additionally, face-to-face, video, or phone discussions involving money can be uncomfortable for many. To build your confidence, you can use your website as an online negotiation platform in the preliminary stages of the discussion to interact with your customers through chat features.

2. Be specific about the scope of work
When a customer approaches you, be clear about what the price covers and find out the customer's exact expectations. When the details of the scope of work are hazy, you will often run into problems with customer satisfaction even after crafting your best work.
To avoid clashes with the customer and having your work unfairly rated on freelance marketplaces, it helps to actively listen to what the customer wants before starting the work. Paraphrase what the customer is saying back to them to ensure you're on the same page about the customer's vision.
Depending on the size of the project, you can opt for hourly or fixed charges. Hourly charges often work better for large-scale projects so that any extra work will attract an additional cost. For smaller jobs, fixed charges cover the scope of work and ensure you don't lose out.
Whether you settle for an hourly or per-project price, make sure you use the contract to describe a detailed scope of the job in black and white. Also, use the contract to stipulate how many times you will rework the project after you get feedback from the customer. If the customer requires extra revisions, they should have to pay extra.
Giving customers carte blanche on revisions may mean throwing in too many hours into a project for the same amount of money. This can slow down your business and result in your being unable to take on other work.
3. Make your prices flexible
Flexible pricing leaves you with ample wiggle room in negotiations. Rather than sticking to a fixed price, decide on a price range for your services. Go into the discussions with a mental picture of the lowest price you are willing to accept.
If you fail to see eye to eye with the customer on price, it's often best to walk away and seek out new customers on the same or other platforms. Prolonged negotiations will distract you from reaching out to more potential customers.
Use the upper end of your price range when talking to customers. Also, set the higher figure on your online price list. Whether the customer accepts the price as it is or negotiates downwards, your price is more likely to still fall within your desired range.
4. Make your value crystal clear
To get what you want from a negotiation, you will often have to give something valuable in return. Customers must perceive that the value they are getting in return is commensurate to the money they're giving out.
Rather than basing your asking price on the amount of work or hours you will put into the service, present a strong value proposition focused on the value you can give.
Articulate the benefits that your 3D design will bring to the customer. For example, you can let customers know how using your services can leave them room to focus on their main goals and the potential returns that your designs can bring to their business.
Shifting your customer's focus onto the bigger picture helps to magnify the value and not the price. For your value proposition to pack a stronger punch, include all the relevant information like your training, online courses, and experience.
5. Deliver beyond expectations
Exceeding the customer's expectations by fully meeting their wants can help build your reputation as one of the best 3D designers. When customers are blown away by your service, they're more likely to leave glowing reviews that can endorse you to future customers on the online platforms .
The first step to determining the customer's needs is by asking the right questions. However, you will often need to dig deeper to uncover any hidden wants.
Take time to conduct your own research to find out more about the customer's brand and the desired outcome of the project.
Why would you need to research rather than just ask? It's often the case that customers who don't have much design knowledge fail to clearly express what they need. This can lead to disputes about the outcome of the work.
By researching the customer's business, past projects, and goals on current projects, you can combine that information with what the customer tells you in order to deliver exceptional designs that fully meet the customer's expectations.
When you establish yourself as a high-value designer, negotiations can run more smoothly as customers tend to be less hesitant when you negotiate for higher rates.
Additionally, you can provide 3D renders of the 3D models you have designed instead of only sending them the 3D models. You can use software like SelfCAD to create realistic and professional 3D renders with much ease like the one shown below.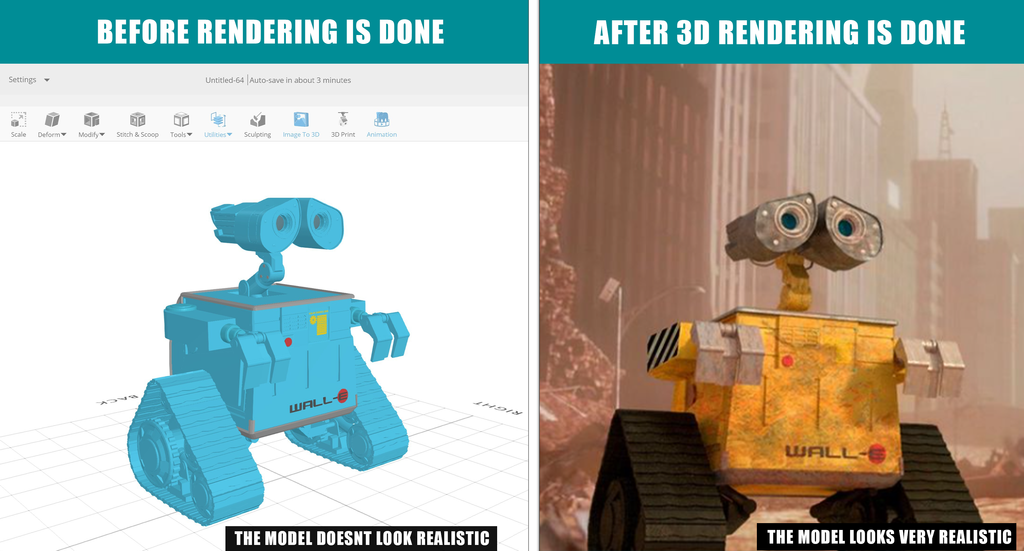 With SelfCAD, you don't need to switch to another program to do this. You can do it right on the software without having to switch to another program. You can also create a tutorial of the design process using the interactive tutorial feature, so that the client can see the steps you took to create the model.
6. Handle your emotions
The negotiation aspect of your freelance design business often requires getting a handle on your emotions—both negative and positive.
For instance, if you inadvertently reveal that you're anxious or overly eager, you may come across as desperate. If you're not conveying a quiet confidence, the customer may push you into accepting a lower price.
It's also important to avoid appearing irritable during discussions, even if the customer is testing your limits. Remember, even if the negotiation falls through, there's still an opportunity for the prospect to recommend you to others who might be a better match for your business.
Consider practicing emotional control techniques like:
Acknowledging your emotions.

Finding an alternative way to express those emotions—for example, talking to someone else.

Hitting the pause button when you feel overwhelmed. For instance, you can ask the customer to commence the discussions after a break.
7. Securing higher 3D design rates
If you don't ask for better rates, you will often sell yourself short. Regardless of the platform that you use to find work, negotiate for better rates to make your freelance 3D design business a success. If you bring your emotions under control and clearly express your value, you can position yourself to negotiate better rates and win future referrals.
Develop a flexible pricing system. Make sure you see eye to eye with the customer about the scope of the work, so you can set your prices accordingly. Also, remember to take time to research the customer online so you can deliver exceptional work.
​Enjoy powerful modeling, rendering, and 3D printing tools without the steep learning curve.
Need to learn 3D Modeling? Get started with interactive tutorials.
Was this blog post interesting or helpful?