SelfCAD Ambassador Program
Boost your 3D Modeling Skills with SelfCAD's Ambassador Program
The SelfCAD Ambassador Program is for 3D modeling professionals, enthusiasts, and students who wish to enjoy premium access to SelfCAD Pro's full suite of tools in exchange for sharing their work on social media and other platforms.
If you're interested in…
Building Interactive Tutorials to help other 3D modelers like you

Getting access to the full suite of 3D modeling tools within SelfCAD Pro

Training your 3D modeling skills in order to design more complex models
Read more to find out how you can be a SelfCAD Ambassador and what's in it for you.
Who is SelfCAD for?
SelfCAD is ideal for self-taught 3D designers who need easy-to-learn, easy-to-use, and full-featured CAD Software. As opposed to being a Parametric Modeling software, SelfCAD has a diverse technical and artistic toolset that is best for Polygon Modeling. Staying true to our mission of making 3D modeling easy for everyone, we built a feature called Interactive Tutorials.
This simple tool allows designers to record the modeling process in application, which our feature then converts into step-by-step instructions other people can follow, and recreate your designs with little to no trouble!
In addition to that, we've added the option to add additional descriptions in case you'd like to explain your thought process behind specific steps.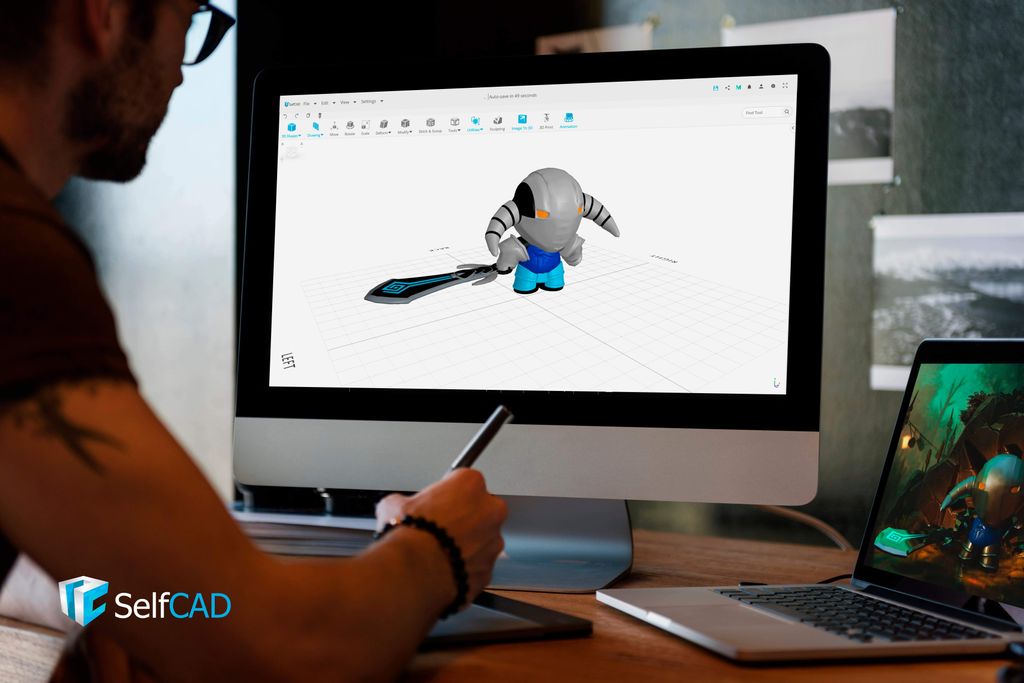 Do I need to be an expert 3D modeler to become a SelfCAD Ambassador?
Nope! SelfCAD is an app built around the idea of making 3D modeling fast, easy, and accessible. So, designers of every skill level are welcome to join our ambassador program.
Why become a SelfCAD Ambassador?
SelfCAD Ambassadors enjoy FREE SelfCAD Pro subscription for a whole year.
Our team will also assist you in making your ideas a reality - whether you have questions about the toolset or need help with design, you can just ask us for help instead of spending hours trying to find the solution yourself.
Say, you want to create a 3D model of an apple for class or a client and you don't have any idea where to start. Our team can whip up an Interactive Tutorial for you.
Stuck with a project you can't seem to pull off? You can simply send us a reference image of what you're trying to accomplish and we'll help you with it.
And this is just the start!
Similar to most social media platforms, you can create a custom profile and link it back to your other social media accounts, so as a freelancer or job seeker, you can use Interactive Tutorials as another way to market your services.
Of course, the main purpose of this feature is to educate others so you can always use it for teaching your students in a class as well.
How to become a SelfCAD Ambassador
To become a part of our program, all you need to do is to create and publish one Interactive Tutorial. We'll review it, and depending on its quality, we'll either list it right away or ask you to improve it while guiding you through this process.
Once it's done, you're good to go!
We then ask that you create and publish at least four (4) Interactive Tutorials in one year and share them on your social media platforms. Your SelfCAD Pro license will be renewed for as long as the conditions above are met.
Want to become a SelfCAD Ambassador? Create your own Interactive Tutorial today!

---
Enjoy powerful modeling, rendering, and 3D printing tools without the steep learning curve.

Need to learn 3D modeling? Get started with interactive tutorials.
Was this blog post interesting or helpful?