Online vs offline 3d modeling application
Online or Offline 3D modeling?
SelfCAD has released a downloadable version for Windows and Mac, as requested by a lot of its users.
While it is known as an online 3D modeling software, SelfCAD released offline versions as well to give a more flexible workflow for designers and hobbyists alike. SelfCAD now offers the following 3 versions:
SelfCAD's flagship Online 3D modeling application

A new Hybrid (PC-Cloud) version

A standalone PC (Local storage) version
In this article, you will find the difference between all these options so you can choose which suits your needs best.
Where SelfCAD stores projects and 3D models?
Before we dive into the pros and cons of each software application, we first need to understand the difference between the 3D modeling software and its file storage systems.
Traditional PC-based 3D modeling applications store all 3D objects locally but nowadays, you have some downloadable software programs that save all objects on the cloud or at least synchronize the files as a backup to the cloud.
Now, it's easy to understand that any online storage option is helpful for either saving on local storage and/or ensuring that you have a reliable backup for your 3D objects. However, there's a lot more to it, so let's break down everything we have to consider when trying to choose between SelfCAD's online and offline 3D modeling softwares.-
Do I need to download and install software?
The online version includes all of its 3D modeling tools as well as its FDM Slicer software and does not require any installation before using them, but to use the Physically based rendering (PBR), you will need to separately download the renderer app and keep it open while using it within the online 3D modeling app.
The PC (Offline) and OC-Cloud (Online) versions include everything in one software package, hence you need to download to use the basics. But once you already have it installed, you no longer need to separately download any additional software.
Can I use it from any computer?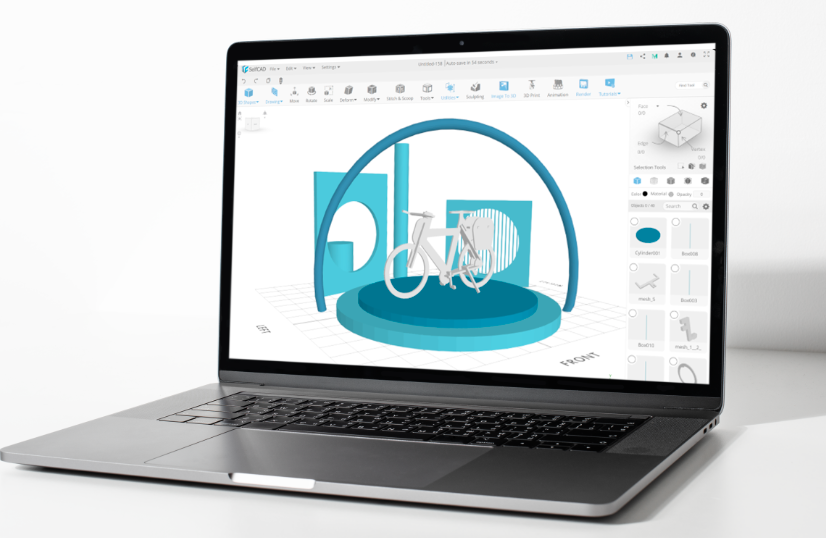 The Online version works on any computer that supports WebGL and from almost any browser, but we strongly recommend using Google Chrome or Firefox as these are the only browsers that we regularly test for. The PC and PC-Cloud versions currently support only Windows and Mac
What system resources do I need?
SelfCAD is optimized to work on the browser and as such, takes much fewer resources than other traditional 3D modeling applications. You can technically use SelfCAD's online version from any computer that supports WebGL. But when working with larger objects and for the PC and PC-Cloud versions, we recommend these system resources
Can I easily switch between the Web and PC versions?
Yes. SelfCAD subscriptions are the same for each of its versions, and since they all share the same design and layout, you can easily switch between SelfCAD for Web and SelfCAD for PC with cloud storage at any time.
Can I work on the same projects on all my computers?
The online and PC-Cloud versions are saving all objects on the cloud and as such give you the flexibility to continue working on the same projects from any computer. However, if you use the PC version with local storage, you will need to explicitly share the objects you're working on by using the Share by URL option.
Can I use the software offline?
You obviously need an internet connection to register and install any downloadable app or to get software updates, as well as to launch the online version. However, once you've already launched the online or offline applications you can continue using them with some limitations as summarized in the table below.
| Capability | SelfCAD for Web | Cloud Storage | Local Storage |
| --- | --- | --- | --- |
| Open SelfCAD | Internet Required | Internet Required | Internet Required |
| Create or open project | Internet Required | Internet Required | No need for internet |
| Edit opened project | Internet Required | Changes are cached and saved after getting online | No need for internet |
| Share object or tutorial | Internet Required | Internet required | Internet Required |
| MyMiniFactory objects library | Internet Required | Internet Required | Internet Required |
Note: We are working to improve the desktop versions of SelfCAD and have a roadmap to reduce dependency on the internet connection for desktop versions where possible. The table above will be updated as we will need to input related updates.
How much storage space do I need?
The space requirements are dependent on the version you use, and to make this completely clear to you, it has been summarized in the table below.
In summary, the online and cloud versions for PC will temporarily store all objects locally so that you can continue working while offline, but once it gets a cloud saving confirmation, it removes the local files, hence freeing up storage space. The SelfCAD for PC with local storage will however save anything you create and edit there to the hard drive of your PC.
Can I share objects with other people?
Yes. SelfCAD's social sharing function creates an online file and URL for all versions. The local storage option is just for personal projects and files but it will still enable social sharing.
Will I have to pay for software updates?
No. Like any successful software, SelfCAD Keeps improving, adding and updating features but unlike others, SelfCAD never charges for any update. Everyone gets the latest versions regardless of whether they have a subscription or perpetual license agreement.
How quickly can I get the latest version of the software?
The online version automatically updates very frequently, while the versions for PC may have some delay as more effort is required to compile such versions. However, they will both update automatically or give you an option to accept or decline such an update as soon as a new stable version is made available.
Will I see a performance difference between the versions
The versions for PC should have some slight performance improvement and the local storage option even more so.
How to use interactive Tutorial on PC
The interactive tutorial feature allows you to record the 3D modeling process and generate instructions that you can easily share with others. Tutorials can be picked from a vast library of interactive tutorials. The Start Tutorial button shown for each tutorial opens a page where you can choose between opening tutorial in the browser or in the SelfCAD for PC.
This page allows you to download and install SelfCAD for PC if you have not done so yet.
If you do not have an account at SelfCAD yet or did not sign in, this page will let you quickly sign in or sign up in a few clicks and then return you to the screen shown above.
When you click the Open on desktop button, your browser will show a small popup to confirm this action:
This popup is a common security precaution, useful for ensuring the content for desktop comes from SelfCAD website.
After clicking the Open SelfCAD button in this confirmation popup, the SelfCAD for PC will start shortly and will open the tutorial automatically.
Check out the video tutorial on Youtube to learn more about the Interactive tutorial of SelfCAD.
Conclusion
Each option has its best suitable usage scenario and purpose. Many people will start using an online version for testing purposes, but once they decide to continue using the software, they will switch to a downloadable version. Others might prefer to continue using the online versions.
Here are some examples of SelfCAD usage depending on the version you need or prefer.
You may prefer online storage and/or online access depending on whether you're using SelfCAD on your laptop or on a different computer like an office/university desktop.

3D Assets designers or R&D designers may prefer using local-only storage to keep all their files and projects in one place. You might not want to have your personal browser or computer usage mixed up with work files.

For teams, hybrid storage will allow for more seamless collaboration. Designers might prefer using the desktop version for Rendering and they can upload their drafts or complete assets to allow their teammates access online.
---
Enjoy powerful modeling, rendering, and 3D printing tools without the steep learning curve.
Need to learn 3D modeling? Get started with interactive tutorials.
Was this blog post interesting or helpful?