How to upload a 3D Model to your Facebook Newsfeed. (With Pictures)
Upload 3D Models to Facebook Using SelfCAD Software
Now upload 3D Models to Facebook to appear in your newsfeed using SelfCAD.
SelfCAD is the most reliable and user-friendly 3D Modeling application to create awesome 3D designs for Facebook (And Twitter!).
With Facebook's recent announcement for supporting 3D posts, users are now allowed to easily view and interact with their own 3D Drawings from all 3 dimensions on their News Feed. You can now drag & drop 3D models into a new post.
SelfCAD is an online 3D CAD program that helps not only artists, graphic designers, and hobbyists to innovate and share their creations (think 3D printing) but also students and teachers so that people can discover and explore over 40,000 ready to print or post to Facebook 3D Library.
How to create a 3D Post on Facebook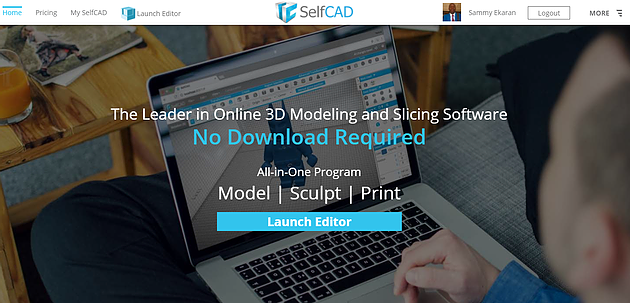 To create a 3D post on Facebook, you need a .glb file. SelfCAD has a.GLB file exporter, so every model you create in SelfCAD can be exported as a.GLB file.
It's just 3 simple steps and you are done:
​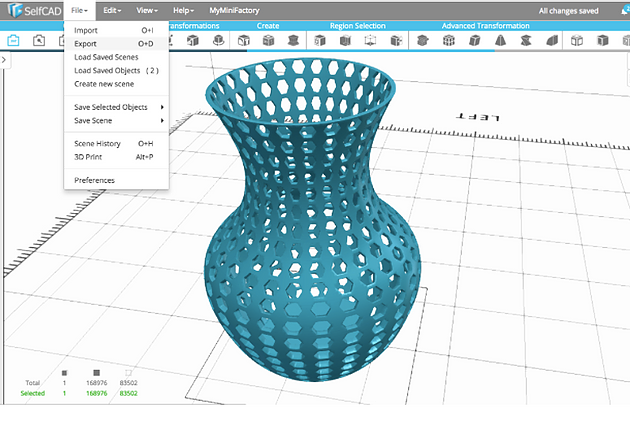 Create a 3D object. Watch our video

tutorials

to learn how to design your models or pick one from our 40,000 MyMiniFactory Library.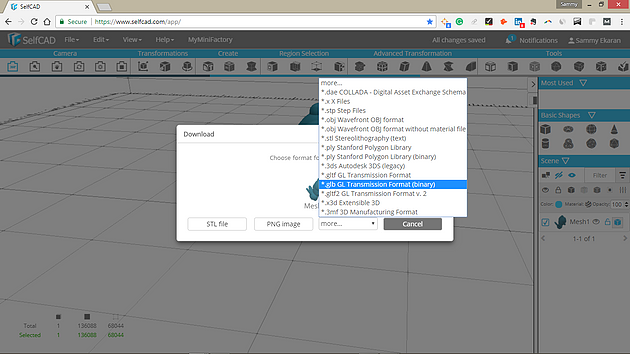 Once you have completed your model and are ready to export it to Facebook, you are ready for step 3.
Now, go to File and click on Export, then click on More and change file type to as .GLB
​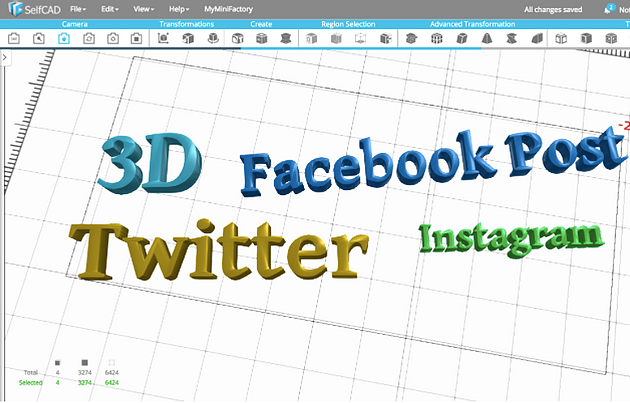 Now post your 3D model directly to your Newsfeed on Facebook! (Make sure the .GLB file is less than 3 MB)
BONUS
SelfCAD is not only known for our easy to export 3D Facebook Posts, did you know you can also create 3D Text and Logos? You can use SelfCAD too to design 3D logos and 3D texts too with much ease.
SelfCAD helps in designing 3D Texts easily. Moreover, you can convert your logos into 3D logos by just importing an .SVG file of your companies logo to SelfCAD and converting it into a .GLB file, the Facebook supported file format.
SelfCAD helps to export .obj or. stl to. glb file. Just import it to our 3D Engine and export it as a. glb 3D file format and create awesome 3D models to share and display on your Facebook page.
To boost your Facebook posts SelfCAD is getting more innovative:
You can now add more art and be more creative with your 3D models.

You can share your 3D posts directly to any Facebook page.

You can easily drag and drop 3D objects into your newsfeed.
If you have any questions, comments or ideas, please contact us at info@selfcad.com
---
Do you want to learn 3D modeling? Check out our interactive tutorials.
Haven't tried SelfCAD yet? Register now, and try it out for free!
Was this blog post interesting or helpful?