How Long Does It Take To Learn 3D Design?
The Average Time It Takes to Learn 3D Modelling
With the new advancements in technology, 3D design tools are increasingly becoming popular. Though 3D modelling is fun and many people are learning because of its advantages, there is no doubt it gives beginners headaches and the majority usually give up during the first few weeks if not months. When one starts this journey, there is usually that excitement to quickly design your dream model, however, along the way one faces a lot of issues which leaves you wondering, which is the next step I should take? And that's why you find one of the most common questions those interested in pursuing this skill ask is the time frame that can take them to design a 3D model on their own.
It's of importance to note that learning 3D modelling has never been easier before than it is right now because learning materials are easily available on the internet. Easy-to-use software like SelfCAD has also been created. Beginners and even those who don't have prior experience in 3D modelling can take even just a few weeks to learn the basics of 3d modelling using this software and even be able to create complex models after a few months of learning.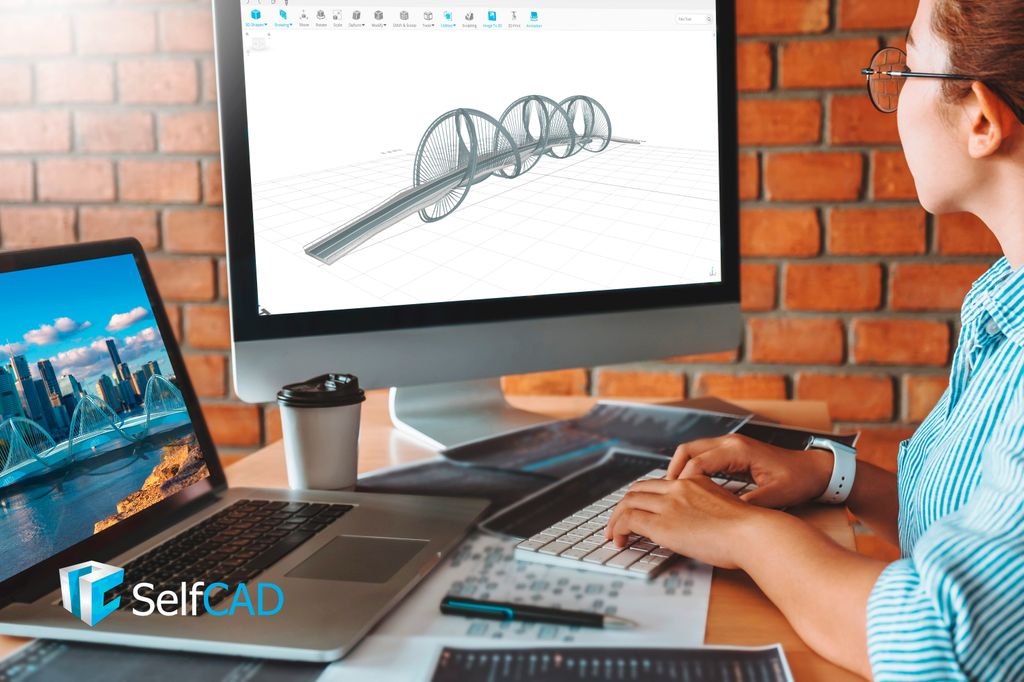 Just like any other skill, the time it takes to learn and master 3D modelling differs because of many factors. Below, we've explained the most common factors that affect the time it takes to learn 3D design.
Factors affecting the Time it takes to Learn 3D Design
On average, learning the basics of 3D design takes from 6 to 12 months, while mastering all its tools may last for years. It all depends on many factors.
Type of 3D modeling software
Continuous development of new technologies and updates of the existing software requires 3D designers to constantly expand their own knowledge. It is also worth mentioning all 3D software are different in terms of their type, range of functions, and time required to master them. All of that factors in the time needed to learn 3D design. Another factor that one has to take into account is the complexity of what one wants to design.
As a beginner, I recommend learning SelfCAD. Unlike other programs, just within a few weeks of learning, you will be able to design both simple and complex designs. There are also interactive tutorials to help you learn the program.
Education
As is the case with everything, it is much easier to get started with 3D design if one has some background knowledge on the topic, at least when compared to those who haven't. There's a lot of specialized classes dedicated to mastering specific software for those who have a basic knowledge. In short, having specialized education allows one to apply for more demanding courses to improve their skills even further.
Learning Materials
There are a lot of resources available for self-education that can speed up the learning process of any skill. When it comes to 3D design, tutorials and guides are the go-to resources, but they can be hard to come by for some, which slows down their progress. But once they get access to them, it is easy to catch up.
One's dedication
There are many reasons as to why someone would like to master a new skill. Some are forced by external factors, such as the company's requirements, while others learn them on their own volition to find a new job, for their start-ups, and more. The point is that the more one is dedicated and motivated to learning, the faster and easier it is.
Type of the needed 3D model
Different types of 3D models may require you to learn special techniques to make sure that everything works out as intended. And of course, people with even basic understanding of art, design, and the inner workings of computer software will have an easier time learning them when compared to those starting from scratch.
Experience
Previous experience is also a factor. It includes experience in creating 3D models but also experience with computer software in general, as tech-savvy people will have a much easier time working out the ins and outs of the new software.
Where To Learn 3D Design?
Time required to learn 3D design also depends on whether you will use tutorials and other paid courses or give self-study a shot. As a rule, self-study is more difficult and time and effort-consuming when compared to learning from a qualified teacher, but it can be more satisfying to work out something on your own.
But when it comes to paid courses, you should pay attention to the categories they fall into:
● One-month foundation classes. It is the very first step in mastering the art of 3D graphics. It involves learning the basics of 3D design and the construction of simple objects.
● Three-month professional basic courses. It expands on the student's knowledge received after a one-month foundation class. It involves studying the basics of fine arts, UV splitting and placement, 3Dmax, and texture drawing. These three months of high-intensity training usually make the students aware of the entire production process of 3D design.
● Learning from professionals. Many professional 3D designers use streaming platforms where they share their knowledge. Moreover, some of them also offer paid courses. This way, they will correct you and offer advice right when you need it.
● One-month practical training. It is not the final step of learning 3D design, but it helps students to see how their skills work in practice, experience the work in the industry, indulge in the atmosphere of 3D graphics creation, and understand whether they really want to work in this industry.
Top 5 Online 3D Modelling Classes 2021
Due to the global pandemic, education switched to online mode, and as of today, you can take any course without leaving your home. Considering that looking through all classes ratings may take you many hours, we formed a list of the best online 3D modeling classes that will help you to learn 3D design:
● Interactive tutorials of SelfCAD. SelfCAD interactive tutorials will help you learn the basics of 3D modeling by actually designing various models.
● Autodesk Design Academy. It provides an introduction to 3D design via a set of 13 lessons. It covers the basics of 3D design, starting from an overview of 2D and 3D modeling to parametric modeling and different technical aspects.
● Digital Media Academy. It is for those who want to learn modeling characters, objects, or landscapes using Maya software. Their courses will teach you how to create detailed objects and carry out proper model topology for reaching a professional level of 3D modeling using this software.
● The Gnomon Workshop. This website features courses on 3D design for the entertainment and gaming industries.
● Udemy. This platform offers a huge array of courses for all, including classes that will help you to start your project with software such as Blender or 3Ds Max. You can begin with an introduction to SelfCAD-complete training for beginners course to help you get to learn the basics of
As you see, learning 3D design doesn't have to take years if you know the kind of programs to use and where to get appropriate learning materials. Just like with any skill, the hardest part of achieving success is getting started, which is why you should not wait! This is the perfect time for you to start your own journey with design and bring your creative ideas to life.
Enjoy powerful modelling, rendering, and 3D printing tools without the steep learning curve.
Need to learn 3D Modeling? Get started with interactive tutorials.
About the author
Nancy P. Howard has been working as a writing expert at academic writing services reviews for two years. She is also a professional writer in such topics as blogging, IT and web design. She loves travelling, photography and is always welcome to meet new people.
Was this blog post interesting or helpful?