Discover SelfCAD: 3D Camera
What is the difference between how we see three-dimensional objects in the real world and on the computer screen? How to see every single detail of your object from the perfect angle? Read our guide and master the Camera in SelfCAD!
Real World vs 3D Modeling Word
When we see any 3D object in the real world, let's say, a tree, we can rotate and move around it to see it from each side and angle. As we move further or closer, our eyes project the objects being larger or smaller. Sound obvious and rational, right?
Right, but when it comes to 3D modeling, other rules apply to this case. Any 3D object you see on your screen is, in fact, a projection from the computer's perspective called a Camera. The closest example from the real world is the camera you use to take photos and videos. The final image is always affected by camera positioning. When it comes to 3D graphics and 3D modeling, you have to learn setting, navigating, and operating the Camera.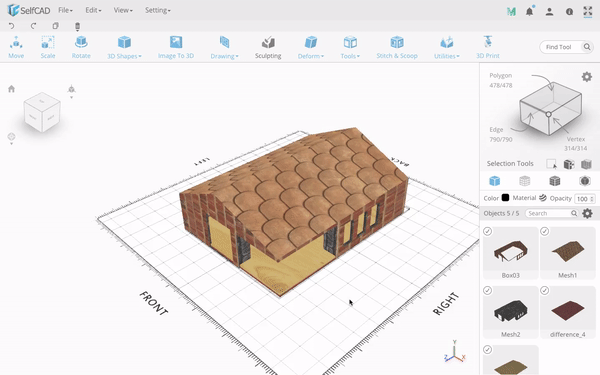 Mastering Camera Settings
In SelfCAD, all the Camera settings are combined in one convenient location on the top left, just below the toolbar. Our Camera consists of:
The

Rotation Cube

which allows to freely rotate around the object;

By clicking on any side, edge, or corner of the

Rotation Cube

you can easily focus on every side and angle of the object

Using

Home

feature displayed as an icon helps to bring the object back to its default position;

Various mouse behavior options. Dragging the mouse will

Rotate

the camera by default, but you can change it to

Pan

or

Zoom

anytime;

Perspective

and

Orthographic

projections.
Furthermore, you can also use keyboard arrows to

Move

or

Pan

the camera. Use touchpad, mouse wheel or trackpad to

Zoom.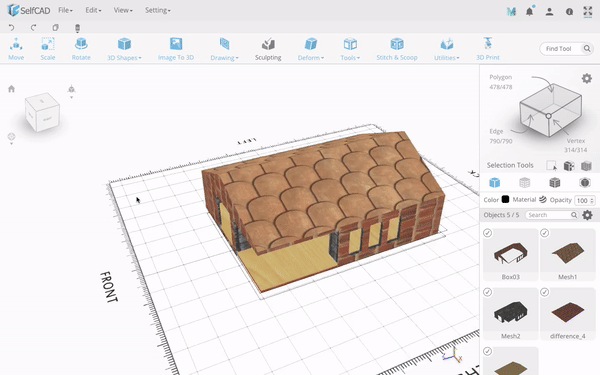 Unlike in the real world, in 3D space, you can inspect and work inside of objects without opening and breaking it. You can see the inner layers by simply Zooming into a point where the outer part of the object is behind the computer's camera because the camera will just ignore the outer parts while completing this command. To zoom into the exact section you want in SelfCAD, simply position the mouse cursor on that point as you zoom.
Available Projections
Perspective Projection
This projection allows us to get a realistic view when reviewing objects in standard positions, it's like putting the objects into perspective. However, it is not so good when it comes to creating and measuring 3D drawings or when positioning 3D objects accurately is vital for your project. That's why we have also Orthographic projection which is great for 3D drafting and positioning 3D objects with precision.
Imagine this: if you position two flat objects, let's say, a line or a cube with the same size but with different elevations, next to each other on the grid, and take a look from the top, these objects will look the same in Orthographic projection, but if using Perspective projection - the objects will look differently.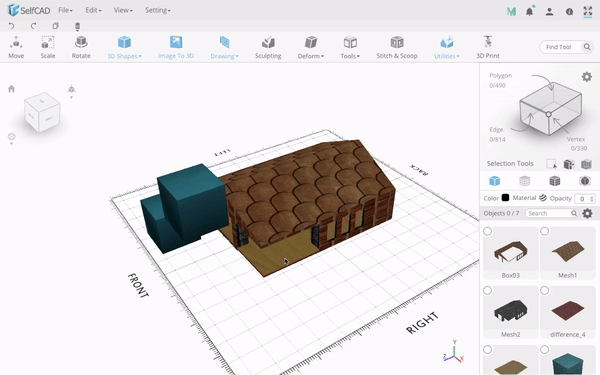 Navigating the camera will help you to see the objects in two different projections, zoom, rotate around the object, and set the angle for the perfect view. However, camera zooming has no effect on the size of the object. You have to Scale the object to change its size.
We hope that with the help of this article you will be able to achieve better 3D modeling results while using SelfCAD!
In case of any questions about our tools, please contact support@selfcad.com and we will add more helpful information.
---
Do you want to learn 3D modeling? Check out our interactive tutorials.
Haven't tried SelfCAD yet? Register now, and try it out for free!
Was this blog post interesting or helpful?