5 Ways 3D Modeling Can Benefit Your Business
How 3D Modeling Can Help Your Business Grow
The world is ever-changing, and so is the market. With competition on the corporate landscape as large as it is today, satisfying customers became more imperative than ever before. And as it happens, 3D modeling is one of the tactics that companies can use to increase customer satisfaction, as it provides a complete image of the product from multiple perspectives.
The biggest drawback of online shopping is the inability to view the product from multiple directions. And once again, 3D modeling can help with that. In comparison to static images, using 3D design will give your customers a clear idea of a complete product.
Several industries like film, medicine, and gaming are already making the best use of this technology, even if it requires the use of specialized 3D modeling software and expertise. But this should not bar you, as using 3D modeling in your business is much easier than before, and there are many benefits of using 3D modeling in your business:
Benefits of using 3D Modeling in your Business
Product Designing, and Redesigning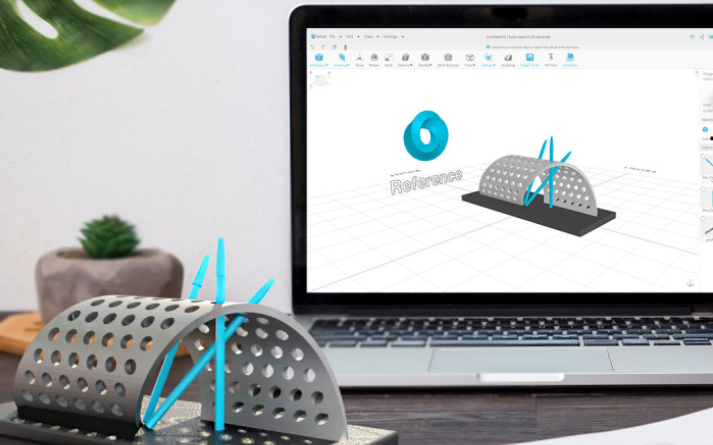 Mobius Strip holder designed in SelfCAD
When designing a product, we generate multiple ideas and then pick up the best one. This stage of product development is highly important as a single mistake can disrupt everything in the long run. Therefore, even minor changes should be monitored and recorded.
Similarly, if a product is redesigned, we'll create multiple versions based on the original image. Tracking all those changes can be difficult without having a 3D model, which is why using 3D designs can contribute to a better product design.
Similarly, if a product is redesigned, we'll create multiple versions based on the original image. Tracking all those changes added to the former design can be difficult without having a 3D model, which is why using 3D objects can contribute to a better design process.
One company named Carpet Cleaning London designed a portable machine for cleaning carpets. Their initial launch was not a success. The company thought of redesigning the product and decided to use 3D modeling for it. Thanks to the effective use of this concept, their team came up with an impressive design that became a reason for their success.
Customer Satisfaction
Since the consumers are becoming more demanding as their options continue to grow, you should focus on making your product look more appealing than your competition. One of the methods to do just that is providing the real image of the product, which you can do rather easily with 3D modeling. This seemingly small change can help increase consumer satisfaction.
Furthermore, it aids in maintaining long-term relations with the consumer as chances of disapproval are lower. For instance, architects can show a 3D model of the house to every client before construction. And what's more important, they can show the lighting, which plays a key role in house designing, with 3D graphics.
This way, clients will get to know how the house will look with real lighting. It will give them an idea about décor, furniture, and expense on artificial lighting. With this, any changes desired by the client can be made easily, even before the construction work starts. Consequently, it eliminates the chance of dissatisfaction as consumers get what they see.
SelfCAD is an amazing program for beginners, professionals, and small/medium businesses who would like to produce eye-catching product designs with ease without spending much time on them. You don't need to learn complex programs to do that. You can get started with SelfCAD just within a few weeks of learning and be able to 3D model and render professional designs.
Investor Trust
When you design a new product, you need to show the best image to the investors. How could you convince them to support you if they don't even know what your product looks like? 3D modeling will help in this aspect too. You can use it to provide a detailed image to the investor, which can help in building the investor's trust in the company.
How will the product work? What will be its inner features? What is the overall image of the product? Those are just a few common questions that will come up in an investor's mind. Apart from it, it helps in showing your professionalism and seriousness about the product.
Though 3D modeling offers great benefits, it is not used by most brands. Therefore, it will help your business to stand out. Investors will be easily convinced, and your business will get a good boost.
Branding and Presentation
3D graphics can and will help you with creating a unique identity for your company. From showcasing an effective logo design to highlighting a distinctive image on social media, there are many different areas where nicely designed images will help tangibly present your ideas.
And with so many brands available on the market, it is imperative to stand out for good reasons. Branding can be useful as a tactic to win consumers' hearts. It not only provides the benefit of having a real-time view of the product, but it also provides an additional edge to the business.
Even a small business can gain a professional image with the use of 3D modeling. To better understand how your business could stand out, you can compare a flat image with a 3D design. Now, put yourself in the client's shoes and see which brand you will prefer?
Thus, 3D designs can play a major role in the branding of your business. Be it a website, a blog, or a social media post, 3D images always get more attention in comparison to flat, one-sided pictures.
Team Collaboration and Time-Saving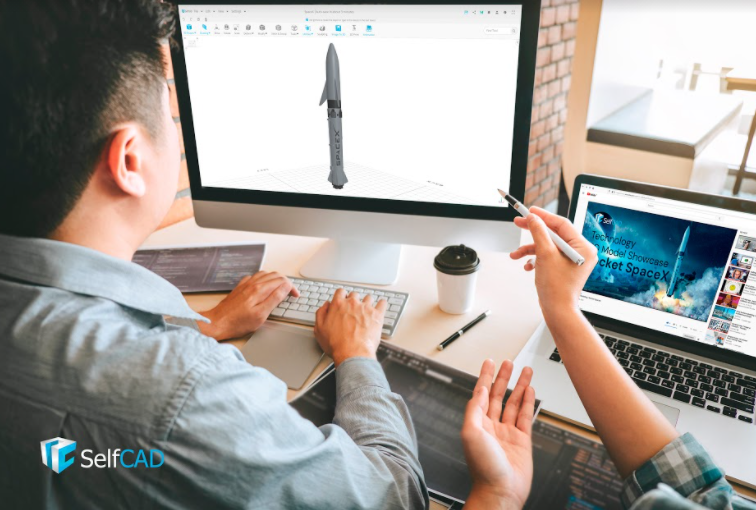 Product development requires perfect collaboration among various teams, be it finance, manufacturing, or even marketing. No matter their position, every member should stay updated about the current status of the project.
Gone are the days when companies had to send a written document to every department to notify them about the changes. But when 3D modeling is in use, every member can view even the minute changes in real-time. Furthermore, it boosts creativity as every other employee gets a chance to look at the product at every stage. Apart from it, it also enhances collaboration among various teams.
For example, with the use of 3D models, you can show the real use of additional materials to the finance team instead of sharing with them the expense. It reduces efforts, builds trust, and most importantly, it develops a strong bond between teams.
Record Interactive Tutorials for your New Recruits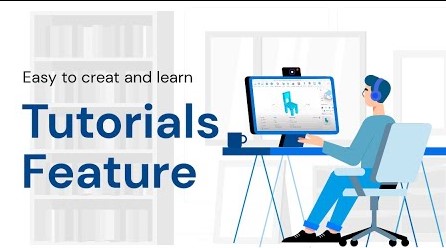 Creating tutorials in SelfCAD is easy and simple
Sometimes explaining difficult concepts to your new recruits can be a challenge. But with features like the Interactive Tutorials in SelfCAD, you can easily create and share tutorials to bring them up to speed in no time. Additionally, with SelfCAD, you can have your new and existing projects, all under a single platform.
Wrapping It Up
In short, businesses need to stand out to survive in the current competitive landscape. 3D modeling, a modern-day approach, can help in several ways. It plays a big role in product designing and helps in making the changes beforehand.
Besides, it aids in greater consumer satisfaction as they can view a real-time image of the product. Investor trust is another valuable benefit of the technique, which is often ignored. Since it displays a product in multiple dimensions, investors get a clear understanding of the product.
Additionally, it helps in branding as the product stands out with its 3D image. Time-saving, team collaboration, and cost-effectiveness are other wonderful benefits of this technology.
​Enjoy powerful modeling, rendering, and 3D printing tools without the steep learning curve.
Need to learn 3D Modeling? Get started with interactive tutorials.
About the author
Arthur Evans is an award-winning writer from the UK. He's the main website coordinator and manages over twenty expert ghostwriters. Arthur communicates with clients and ensures a smooth paper delivery process. Providing impeccable essay writing help is an absolute priority for Arthur and his colleagues. That's why they're always involved in university life and keeping tabs on changes within the school curriculum. In his free time, Arthur likes to run and exercise outside. Other days, he plays video games online with his friends.
Was this blog post interesting or helpful?