5 Best 3D Modeling Software for Interior Designers
Best 3D Designing Software For Interior Designers
Are you an aspiring interior designer? Do you want to know the tips and tricks to master the trade? You've come to the right place. Let's get started.

Interior design is an integral part of today's life. Everyone wants a gorgeous

home

, office, and shop. This can be achieved by good interior designers.
There are different methods available in the market for creating good interior designs for your home or shop. But, all amongst them, 3D modeling provides the best experience in the field of interior design. 3D modeling has its uses in various industries like marketing, advertisements, gaming, movies, product design, architecture, medicine, and many others.
3D modeling is just changing the interior design field by the new and fantastic methods of creating the best interior designs. In the traditional method, designers create the designs using pen and paper, and they draw plans that take a lot of time. But, with 3D modeling technology, you don't have to use pen and paper for creating interior designs.
You can use 3D modeling software to create 3D models for interior design easily. These 3D models provide more information, and with the 3D model, you can execute the plan more professionally. There are many benefits of using 3D modeling software over 2D drawings. Some of them are:
You can present the design to the client effectively via 3D visualization, increasing the chances of design approvals.

2D drawing doesn't contain a lot of information because they are handmade sketches. That's why interior designers find it challenging to communicate their design during a client presentation.

When you use 3D models, you can create multiple design options quickly. If you want to make changes to it, you can do it with the help of 3D models without actually purchasing the real thing. In this way, you can experiment with different designs without the risk of high costs.

With the help of 3D modeling, you can create a 3D library of products, and you can show multiple designs to potential clients, including items, materials, and furniture that are arranged in a specific area according to the client's requirements.
These are some of the benefits of using 3D modeling software in interior design. Interior design is an essential part of our daily life. Hence, it becomes imperative to know about interior design to become a good interior designer and build a career in interior designing.
Do you want to learn more about interior design? Have no worries. We got you covered. Read the article till the end. It's sure to help you understand the ins and outs of interior designing. And if you want to learn how 3D modeling works, you can follow these key steps to self-learn 3D modeling easily.
What is Interior Design?
2D Drawing vs. 3D model. Image Source: HighTech CAD Services
Interior design is all about our visual experience. When we see some designs, we feel good, energetic, and motivated, while some lousy interior designs make us feel dull, lazy, and bored. Interior design is an essential part of our day-to-day lives because different designs surround us; it affects how we work, live, play, feel, and even heal.
An interior designer creates the designs according to the client's demand and provides suggestions on improving the interior design of the client's home, office, shop, and other architectural things.
To fulfill the demand of clients and to create beautiful and fabulous designs, an interior designer is expected to have a working knowledge of:
Space planning, materials, colors, textiles, furniture, and more

2D and 3D CAD (computer-aided design) software and BIM (building information modeling)

Building codes and health and safety issues
These are some things and skills that an interior designer should know. Interior designers have to work with engineers, architects, contractors, businesses, and homeowners. Hence, it's vital to have a good skillset and knowledge to work appropriately with people from different fields. The interior designer should also know the various principles of interior design, such as:
Balance (Formal, Informal, Radial)

Rhythm

Harmony

Emphasis

Proportion and Scale

Details

Unity
All right. You've learned the nitty-gritty of 3D modeling, its significance in interior design, and how 3D modeling is changing the future of interior design. Well done! Feeling smart? Wait, the best is yet to come! Let's now hop on to the most important part of the article, i.e., the best 3D modeling software for interior design. That's right. You're going to learn about the best 3D modeling software that can help you become a brilliant interior designer.
With the help of these sophisticated but user-friendly 3D modeling software, you will create stunning designs for your client or your business. Let's crush this.
Here is the best 3D modeling software for interior design:
Best Interior Design Software
SelfCAD

Onshape

Fusion 360

SketchUp

FreeCAD
1. SelfCAD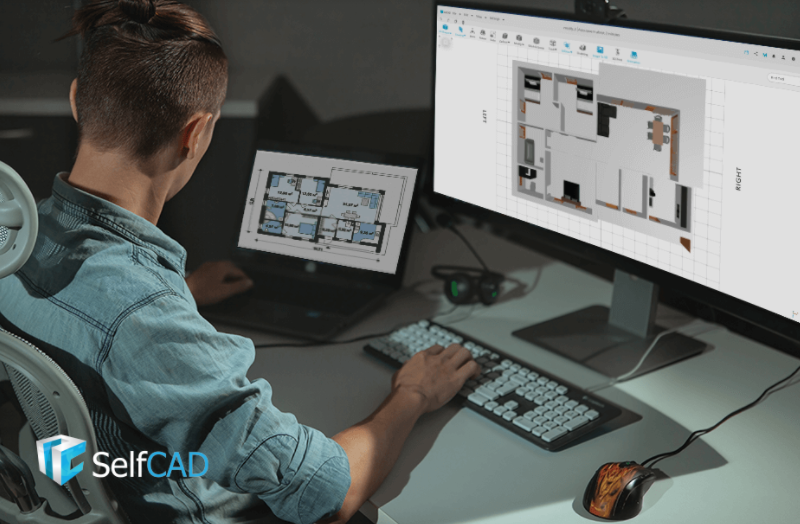 SelfCAD has powerful but easy-to-use freehand drawing and sketching features that make it easier to prepare the interior design smoothly. A reference image feature allows you to import your images and use them as a reference when designing. Are you good at 2D drawing? If so, you can prepare the interior design on paper; then import it on a 3D interior design software to convert it into a 3D model.
SelfCAD lets you create objects, scenes, and 3D designs in less time than when you're using traditional CAD software. SelfCAD also has many other 3D modeling features, such as rendering, lighting, and 3D sketch, that help you create your design more realistically.
In addition, a variety of tools are available in SelfCAD - edit details tool, resolution tool, fillet tool, chamfer tool, inset tool, extrusion tool, spiral generator, etc. It allows you to create interior designs in much less time than other traditional software. SelfCAD is affordable. Users are given a 10-day free trial where they have full access to all the tools. After a 10-day free trial, you can either continue with the free version with limited access to tools or subscribe to any of the following packages.
Free: Forever (with limited features).
SelfCAD Pro Monthly: $14.99.
SelfCAD Pro Yearly: $139.99.
SelfCAD Perpetual License: $599.00 (Lifetime access)
2. Onshape
3D Model Created in Onshape. Image Source: Onshape
Onshape is a product design platform that combines 3D CAD, PDM, collaboration, and analytics tools in the cloud. It is the only Software-as-a-Service (SaaS) product development platform that combines CAD, built-in data management, real-time collaboration tools, and business analytics. This software has a lot of features. You can do a lot of work using just this software. You can create 3D designs, manage the data of your team, and can also get analytics and reports of your work.
Nowadays, speed plays a vital role in every field, and you can deliver the task at the right time when you have high-performance software. Onshape is a product design software that can be instantly deployed on computers or mobile devices, enabling teams to work together globally and rapidly.
Onshape also has a real-time data management system. It's a good feature because the team members can get in each other's way if your software doesn't have this feature.
For example, if a team member is working on a project and cannot save it or share it with other team members, it can be affected when another team member starts working on the same from the beginning. But with the help of this feature, when one team member anywhere in the world makes a design change, everyone else instantly gets updated.
Pricing of OnShape:
Standard: $1,500
Professional: $2,100
Enterprise: Contact Sales
3. Fusion 360
Gun Created in Fusion 360. Image Source: All3DP
Fusion 360 is a cloud-based CAD/CAM tool for collaborative product development. People from different industries can use this 3D modeling software because it supports various types of work. Fusion 360 has many features, which is why this software is suitable for everyone, whether a student, business person, or freelancer.
Some of the significant features of Fusion 360 are:
3D design and modeling

Manufacturing

Electronics

Data management

Collaboration

Additive manufacturing

Generative design

Simulation

Documentation

Fusion 360 extensions
These are some of the prominent features of Fusion 360 software. If you're a freelance interior designer, then you can use it for creating different designs. This is a good option since freelancers receive orders from different clients and all the designs are different.
The pricing of Fusion 360 is:
Free Trial: For individuals who are doing home-based, non-commercial designs.
Monthly: $60
Yearly: $495
Custom: Contact an expert
4. SketchUp
3D Model of Restaurant. Image Source: Sketchup
SketchUp is a 3D modeling software that is used chiefly in construction work. Engineers, interior designers, and architects use this software to create 3D models of houses, offices, bridges, and other construction sites. This software is mainly used in construction work. Interior designers use this tool for creating building and machine designs. With this software, you can design delightfully and easily collaborate with your team.
SketchUp is a very professional tool and has been used by professionals for a very long time. @Last Software of Boulder, Colorado, developed it, co-founded in 1999 by Brad Schell and Joe Esch.
The price of SketchUp varies according to its use. The pricing is as follows:
For Personal
SketchUp Free: $0

SketchUp Shop: $119/year

SketchUp Pro: $299/year
For Professional
SketchUp Pro: $299/year

SketchUp Studio: $699/year
Higher Education
For Students: $55/year

For Educators: $55/year
5. FreeCAD
3D Model Created Using FreeCAD. Image Source: FreeCAD
As the name suggests, FreeCAD is an open-source, free tool. It is primarily made to design real-life objects of any size.
This software is best for beginner interior designers who want to learn interior design or create real-life objects. Are you on a budget cut? Cheer up! If you don't want to purchase premium tools, go for FreeCAD. Still trying to figure out how to create 3D models for product design? FreeCAD is here to help you out. This software has an excellent feature that enables you to create 3D models from 2D models. Confused? Here's what that means. Make a 2D model. And then convert it to a 3D model using FreeCAD software. Ta-da! You're good to go.
You can use FreeCAD on multiple platforms as well. It is supportable in Windows, Mac, and Linux. So, if you have a Desktop or Laptop, you can use it quickly and efficiently.
It is also designed for different needs-for product design, interior design, mechanical engineering, and architecture. Whether you are a hobbyist, a programmer, an experienced CAD user, a student, or a teacher, you will feel right at home with FreeCAD.
Pricing of FreeCAD:
Free (this software is free to use).
So, we've covered the benefits of 3D modeling software, how it works, and the best 3D modeling software in the market- all to help you become an ingenious interior designer. Hope you got what you came for.
If you have any queries or need additional information, feel free to contact us.
---
Enjoy powerful modeling, rendering, and 3D printing tools without the steep learning curve.

Need to learn 3D modeling? Get started with interactive tutorials.
Was this blog post interesting or helpful?