3D Printing Tip: Key Design Considerations For 3D Printing
Key Points to Consider to 3D Print Successfully
3D modeling for 3D printing can be an intimidating experience, especially to new users. Some users have been 3D modeling for years, but when it comes to 3D printing there are some rules one needs to follow to make sure that the 3D printing process is a success.
Before sending your design for slicing and thereafter to the 3D printer, there are some things one needs to keep in mind to make sure it's 3D printed perfectly. The following are some of the most considerations one needs to keep in mind.
Ensure Your Model is Water-proof
Water-proof means that when water is filled up the model they will be able to fill every inner side of the polygon hence there will be nowhere water can escape. This is achieved by ensuring that all the polygons' normals are pointing to the outside and also the model should be manifold. That is, 2-manifold which means that every edge is connected to two polygons. To know if your design is manifold, you can use the Stitch and Scoop tool of SelfCAD. If it's not manifold you will get a message.
Moreover, you can also use SelfCAD Slicer to ensure your model is manifold. Select the settings section found on the top-right section and choose Mesh Fixes and ensure that Remove Holes and Extensive Stitching options are selected.
Remove Holes- As the name suggests, it removes the holes in each layer and keeps only the outside shape.
Extensive Stitching- This tries to stitch up any open hole in the mesh by closing the hole with touching polygons.
If your design meets the above, then it means it can be printed well.
Check Wall Thicknesses
Based on the properties of 3D printing materials, each additive manufacturing technology has its guidelines hence the thicknesses will differ. Always check out the thicknesses of your designs have the right wall thickness especially if they are mechanical designs always ensure that they are not too thin so that they may not lose mechanical properties besides being unprintable.
In addition to that, always ensure that the model you're designing is to be printed with a specific material. There are different materials. They can be brittle or strong, smooth or strong, heavy or light, flexible or solid and so on. Once you know the kind of material of your design you will avoid the possibility of printing failure.
You can check out the full list of wall thicknesses limitations of Sculpteo.com- an online 3D printing service to learn more.
Strength Of The Model
To produce fully functional models, you need to ensure that they are stronger.
You can do this when designing your model or use the SelfCAD slicer to ensure this is implemented. In the Quality settings of the Slicer, select Shell and ensure that the Wall thickness and Top/Bottom thickness is optimal.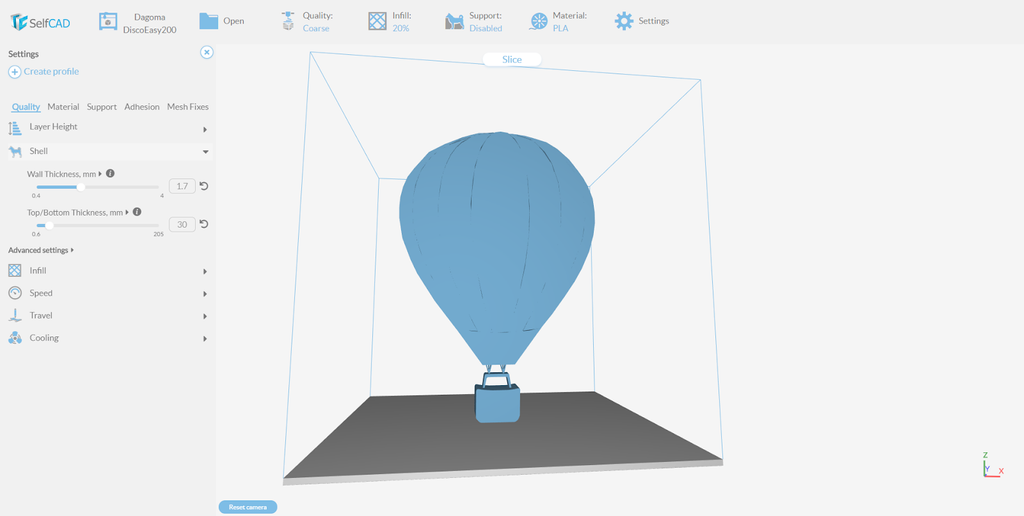 The 3D Printing Technology To Use For 3D Printing
Different technologies can be used to print each material. Once you've known the type of material that you will use to 3D print your model, you will then be able to choose the correct technology. For ABS materials, we use the Filament-based technology called Fused Decomposition Modeling Technology. FDM is the most common 3D printing technology where a thin filament of thermoplastic is heated and extruded forming layers. This technology is ideal when 3D printing complex parts that need strong material properties for extreme testing purposes.
For Polyamide, Alumide, and Rubber-like materials, we use powder-based technology called Laser sintering. And for precious metals Lost Wax Casting is used. This is based on 3D print in a mold and wax. Stereolithography technology which is based on liquid-polymer is used for 3D printing Resins
The challenge beginners in 3D printing make are choosing the right kind of technology to use for 3D printing their designs. But if you know what material your design requires, it's easier to know the technology to use.
In addition to the above, you can also make sure that your model is printable using the Magic Fix tool or use the Makeprintable.com before sending them to SelfCAD for slicing. If all the above is tough for you you can upload your designs to Sculpteo, I.materialise or Shapeways and they will repair them and go on with the 3D printing process once printable.
Shrinkage And Warping
During the 3D printing process, there are always changes within the material as it's melted, heated and sintered. However, challenges usually occur during the cooling process as this causes warping and shrinking which results in deformation and cracking. The parts that are mostly affected are the ones with long and flat surfaces because the heating process results in lengthwise contraction. Sharp corners in the mode can also generate deformation because they usually act as stress concentration points.
These issues can be avoided by the right design. Instead of Sharp corners always consider adding a rounded brim in your model and avoid flat surfaces. You can achieve this easily in SelfCAD by selecting the Sharp corners then use the Round Object Tool and adjust the Smoothness as you preview your design. You can also utilize Fillets in your model to smoothen the sharp edges. When the Corners are rounded, stress can be distributed more evenly. You can also use Fillets in your model.
7. File Resolution
Always choose the right solution for your model and to consider the level of detail. The level of detail your model requires usually depends on the 3D printing technology and the material you're using. However, creating a model with an extreme level of detail can make it unprintable. Always make you consider the specifications of yo ur printer when designing.
Rules Of Thumb
Add at least 0.8mm thickness to your design

Know the minimum level of detail your model requires and choose the 3D printing technology wisely.

Use round corners and avoid large flat surfaces.

Always use angles less than 45 degrees to avoid overhangs in your design.
In conclusion, a successful print begins with a correctly designed model. There are other factors that one needs to put into considerations like the material used and the 3D printing technology to be used. These factors determine the basic rules of design. Exploring design considerations is the first step you need to undertake to ensure a successful print.
---
Do you want to learn 3D modeling? Check out our interactive tutorials.
Haven't tried SelfCAD yet? Register now, and try it out for free!
Was this blog post interesting or helpful?