3D Printing in Medicine
3D Printing In the Medical Industry
3D printing technology can be applied in various industries, such as engineering, product design, prototyping, aerospace. But in medical industry 3D printing allows achieving really mind-blowing results. Read this article and find out, how 3D printing helps to replace human organ transplants, to faster produce cheaper surgical and medical equipment and to speed up surgical procedures!
We can tell with no doubt, that the 3D printing technique is a breakthrough in medicine. In 2018 medical 3D printing is still very experimental, but it already changes lives and has enormous potential for mass usage. Government and medical companies in the USA and European countries invest more in research and innovations for more possible applications. Financial analysts say, that by 2025 3D printing in medicine will have around $3.5BN worth, compared to less than $1M in 2017.
At the current point, there are a few core uses of successful printing in medicine. Let's take a closer look!
Prosthetic Parts
Traditional prosthetics are extremely difficult and time-consuming in production. Besides, any modification could easily destroy or damage the prosthesis. The costs of traditional prosthetics are quite high, which makes them less available for people with not enough funding. On the other hand, 3D printing technology now allows creating custom prosthetic parts, fitting any particular beneficent. Additive manufacturing also allows reducing the time and cost for production and the costs of the prosthesis itself respectively. Researches in Canada and California use 3D printing technology for low-cost production of easily customizable prosthetic limbs for patients in the developing world, in such countries as Uganda and Sudan, where a lot of citizens are harmed by armed conflicts, extreme poverty and lack of well-developed infrastructure.
Medical Models
Not only can we print models of organs, bones, and jaws for students of medical universities. Recently, researchers from China and the US have printed a cancerous tumor looking for the cure. The scientists want to be able to see how and why the tumor grows and spreads. This artificial examination will help to understand the process and, maybe, will help to find the best solutions to stop the tumors from spreading.
Medicine
A chemist from the University of Glasgow, Lee Cronin came up with an innovative idea that may change the whole process of getting the medicine. Using 3D printing technology that compiles powder, he intends to make it possible to provide the needed chemicals as a printing material to later print as a pill. This will allow to 3D print the drugs and will definitely make it faster and cheaper to produce more medicine for patients.
Medical equipment and surgical tools
As 3D printing technologies are constantly being developed, and more materials become printable, healthcare industry takes the best from it by starting printing of medical equipment and surgical tools. Again, additive manufacturing plays a key role in this process, as it helps to reduce the time and costs of production. Currently, it helps a lot in improving the quality of medical services in poor parts of the world, such as Haiti and Bolivia. Local hospitals there are supported by non-profit innovative organizations that bring the modern technology there and teach the locals how to use it themselves, creating an opportunity to also 3D print locally.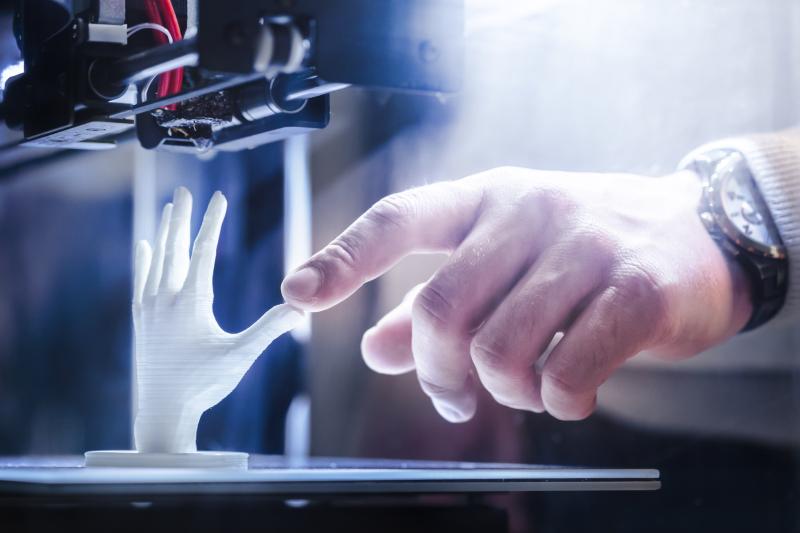 All the above may sound fantastic, but it is not the limit! James Yoo, a student of a medical academy in the USA developed a printer that can print skin directly on the skin of burn victims. The project is still in the development phase, but Yoo's research showed how to successfully print a 10-cm piece of skin on a pig. The US army started to fund the project to later use the technology for treating wounded soldiers.
We can totally agree, that 3D printing is one of the most revolutionary technologies ever used in healthcare. And it only expands in this area. It is quite possible, that in the nearest future we will be able to use 3D printed bones, transplant 3D printed organs successfully, and see how technology and human touch go hand in hand together!
We hope this article was helpful. Stay tuned and discover more about industries where 3D printing changes everything!
Contact us at support@selfcad.com and suggest more topics you'd like us to highlight!
---
Do you want to learn 3D modeling? Check out our interactive tutorials.
Haven't tried SelfCAD yet? Register now, and try it out for free!
Was this blog post interesting or helpful?