10 Things to consider before choosing a 3D modeling software
Key Things to Look for in a 3D Modelling Software
Choosing a suitable 3D modeling software is very important because all of your business work depends on that software.
If the software is good, you can provide excellent services, but if the software falls short of requirements, you can't render the best services to the customer.
There are some circumstances that you should consider before choosing a 3D modeling software.
So if you're looking for a new CAD software or you want to switch CAD tools, then you should consider the points discussed in this post carefully. After reading this post, you should be able to choose the right 3D modeling software for your company or organization.
Below are some points that you should consider before choosing or changing a 3D modeling software.
1. Software that can Meet Your Needs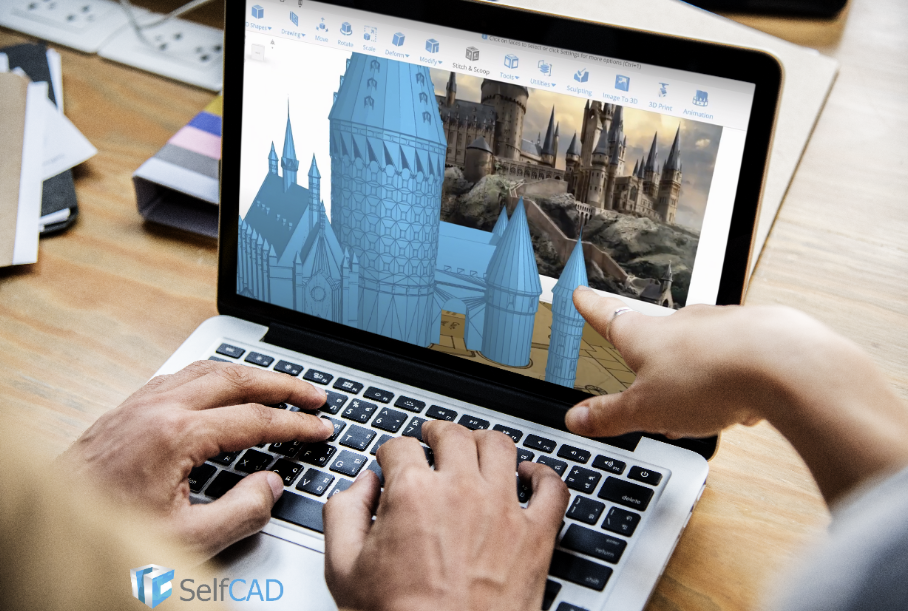 Designing Hogwarts buildings in SelfCAD software using a reference image
While opting for a software, be sure it can meet your business needs. Find out how efficient each package is at performing the tasks your company needs.
Consider the needs of your company and then, according to the needs, choose the best software for your company. For example, if your company makes flat metal parts, pay attention to the special features for modeling them and auto-generating flat patterns.
There may be other needs the company would like to meet, for instance, they might want to be able to share the created model with other team members or with the client, so you have to make sure the software you're opting for has the capability to export the model in the desired format.
Industrial and product designers should consider a software that can generate high-quality designs so that the final product looks smooth and organic. Machinery designers should be concerned with how easily they can assemble different parts of their models and the functionality of the final design.
After examining all these needs, then go ahead and choose a 3D modeling software for your business or company because a suitable tool makes the design process easy and efficient.
If you choose a tool that cannot meet your needs, then you and your entire team will suffer a lot because you can't complete all the work using a tool that has minimum features and your customers will not be satisfied with your work.
2. The Supported File Format of the Software
When you deal with your clients, it becomes really important that others can read the file and even be able to view it. This is because the most unpleasant thing that can happen is, exporting the design in a format that can't be read by your client.
So choose a 3D modeling software that's popular in your industry and supplier community. When you choose a software that is popular worldwide, it helps eliminate the need to convert a file from one format to another.
This will save your time and make the process easy. So, always choose a software that supports the common file formats such as STEP, IGES, VDA, and IDF or .OBJ or .STL if the final model is meant for 3D printing.
When you choose a software that supports common formats, it helps you manage your clients easily.
This feature is very important for freelancers because they have to work with different clients from different countries. If you can share files according to the client's need then it can save both you and your client time.
3. Help to Manage Data
While working in a team, managing data is really important because when you don't manage or save data, team members can unknowingly overwrite each other's data. They can as well send the wrong revision level to each other or to the manufacturers.
These minor errors can waste a lot of time and thousands of dollars in defective parts as well. If the designer sends a wrong design to the engineer's team, and they work with that wrong design, you will lose a lot of money and time in the process. You should try to avoid this 3D modeling mistake.
To guide against this problem, having a product data management (PDM) system within the 3D modeling tool is very important. It can save the data of team members every time they work on a project, and the revision problem will be solved.
So, try to choose a CAD tool that has an in-built product data management system so that you and your team members won't face this difficulty. A good example of such a tool is Solidworks. You can watch the video on Youtube to learn more about PDM in Solidworks.
Also, you need software like SelfCAD that allows you to have your existing, in-progress, as well as new projects and training all in one place.
4. Easy-to-Use
If you're looking to change your current CAD software because of lack of features in the previous software, then you should not only focus on the features but also on the ease of use.
The new tool should be easy to use so that team members don't run into difficulties while completing the projects. If you only focus on features and not on usability, the performance of the entire team will most likely be affected.
There are so many CAD softwares available in the market but some of them can be very complicated to use. Finding the perfect software is difficult, but our software 'SelfCAD' is easy to use and beginner-friendly as well.
SelfCAD is not only easy to use, but it also comes with so many features like mesh modeling, drawing and sketching tools, online STL slicer, direct file export, direct file import, image to 3D, and many more.
5. Provide Latest Features
The latest features always reduce the workload of the entire team by providing the best way of completing an unfamiliar task.
Many CAD tools stick with the features that they were providing one or two years ago, they don't update their features frequently and this can adversely affect your work process. By using an old method, you have to invest a lot of time, whereas the latest features take less time.
So, always choose a CAD tool that frequently provides the latest features to their users because the latest features have lots of advantages.
As you can see, SelfCAD always provides the latest features to their users. Some of the favorite features and tools are:
3D sketch

Cut with profile tool

3D shape generator

Chamfer tool

Resolution tool

Online STL slicer

Deformation tool

Fillet tool

And many more...
6. No Hidden Charges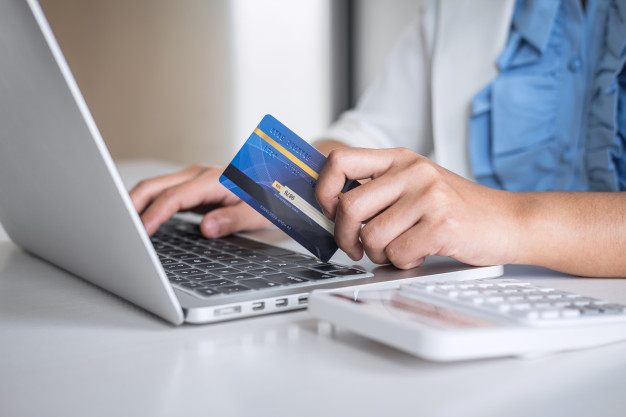 Ensure that software you choose doesn't have any hidden charges
Sometimes the actual charges differ from the charges shown on the website/app. You should beware of tools whose displayed price differs from the actual price.
There are many CAD tools out there that show a different price, but when you decide to purchase that tool the price increases suddenly. The increased charges are hidden charges that the company doesn't show at first.
But at SelfCAD we never hide the extra charges. If you purchase any pro plan, you'll only have to pay the price shown on the website. There are no hidden charges available on our platform.
We also provide a free version to every customer, though this is limited in functionality and you will need to upgrade to access other premium features
7. Technical Support
When you use a CAD software, some technical issues may arise over time, and if you can't resolve them your work will stop for a while.
So, having technical support is very important because whenever you encounter any type of error, you can get help from the technical team. Before choosing a tool for your business/company, make sure that they provide technical support to their customers.
If they are not providing technical support, then never purchase that tool because technical errors occur often, and solving them is very important, otherwise, your work will be halted.
Nowadays many CAD tools are providing technical support to their customers and SelfCAD is one of them. We always provide technical support to our customers.
If you are experiencing any technical issues, contact us and our technical team will help you as soon as possible.
There is also a section for frequently asked questions (FAQ). If you're just getting started with SelfCAD, you can have a look at this FAQ, they will answer lots of your questions.
8. Short Learning Curve
Even if you're familiar with the basics of 3D modeling, choose a software that is easy to learn so that you and your employees can use it easily and without interrupting your work process.
There's always more to learn and adopting 3D methods requires training and experience, so look for a system that has a consistent user interface and the procedure flows logically from start to finish.
Some softwares have a complicated dashboard and users find it difficult to use that interface. If you choose a CAD software that has a complicated interface then you will not be able to work effectively with it and your workflow will be disturbed.
So, always look for a software that has a consistent user interface. A consistent user interface is a sign that you're choosing a good software.
Also, select a 3D modeling software that provides you with some interactive tutorials or online courses to help you in understanding the software easily.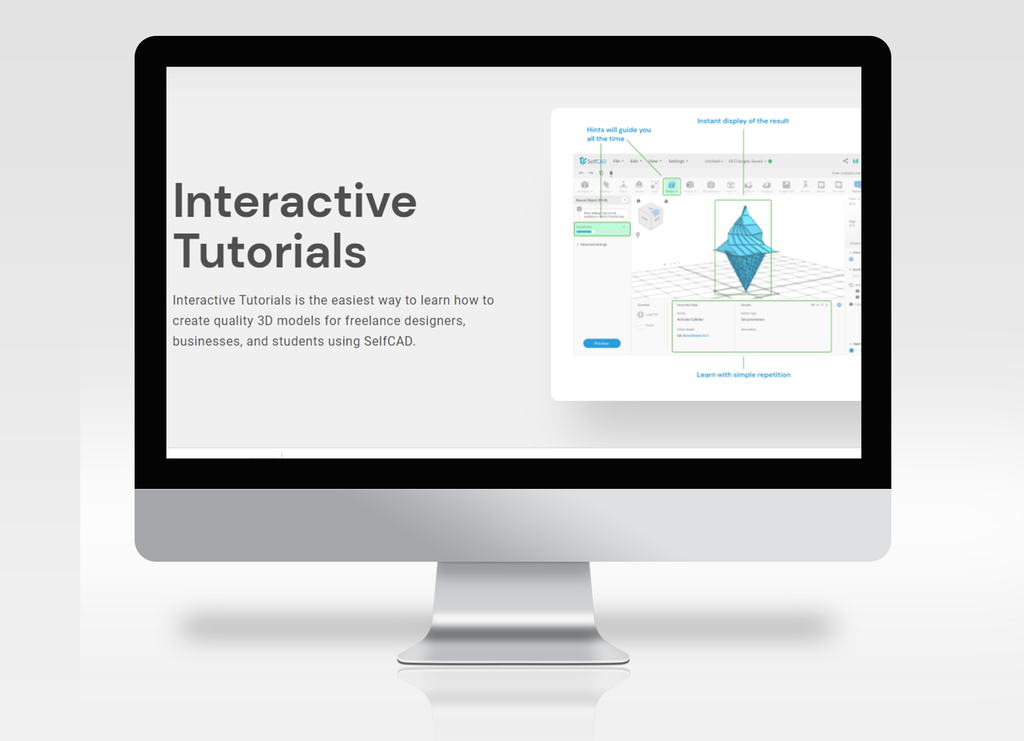 Interactive tutorials of SelfCAD
9. Distinguishing Features
The chosen software should have distinguishing features so that you and your team will have an advantage over the competitor. If you're a freelancer, then you should use a software that has some unique features.
Some softwares provides features that can help you in beating the competitors' work. They can help you complete a task faster, for instance.
Features like converting an image to a 3D model, resolution, and deformation can help you perform your tasks easily. For example, if you got a task to convert an image into a 3D model, then this special feature can help you in completing the task easily.
10. One Size Doesn't Fit All
We have discussed so many points in this article that you should consider before choosing a 3D modeling software, but it's difficult to get all the features in a single tool.
So choose a tool according to your business needs. If your team consists of new members that have only basic knowledge of 3D modeling, then you should choose a software that provides proper training to users.
Also, it's of importance that you look for a software that can handle the majority of your needs. For example, a CAD software that you can use for 3D modelling,
Don't forget to look for the capability and efficiency of the software because you can't change the software frequently, so choose a program that won't change much.
Conclusion
Now you know the top 10 things to consider before choosing a 3D modeling software. Software is an important part of the 3D modeling business.
If you choose the wrong software, then it can affect the workflow of your business and employees will also face too many difficulties.
So, don't be in a hurry while choosing a 3D modeling software. Identify the needs of your business then choose a 3D modeling software accordingly.
If you have questions related to 3D modeling, feel free to ask them in the comment section. Our 3D modeling experts will answer all your questions as soon as possible.
Enjoy powerful modelling, rendering, and 3D printing tools without the steep learning curve.
Need to learn 3D Modeling? Get started with interactive tutorials.
Was this blog post interesting or helpful?