Teach and Learn CAD with SelfCAD
Learning new things is always an exciting journey, fun, and exercise for your brain. 3D printing is becoming more popular and needed, developing 3D modeling skills, especially at a young age is a good investment in the future.
Several years ago only professionals were the best in 3D modeling and CAD. Nowadays 3D classes are part of a school year in the majority of American schools. Now young students are being taught how to 3D design and print in primary schools, in high schools, in colleges and universities.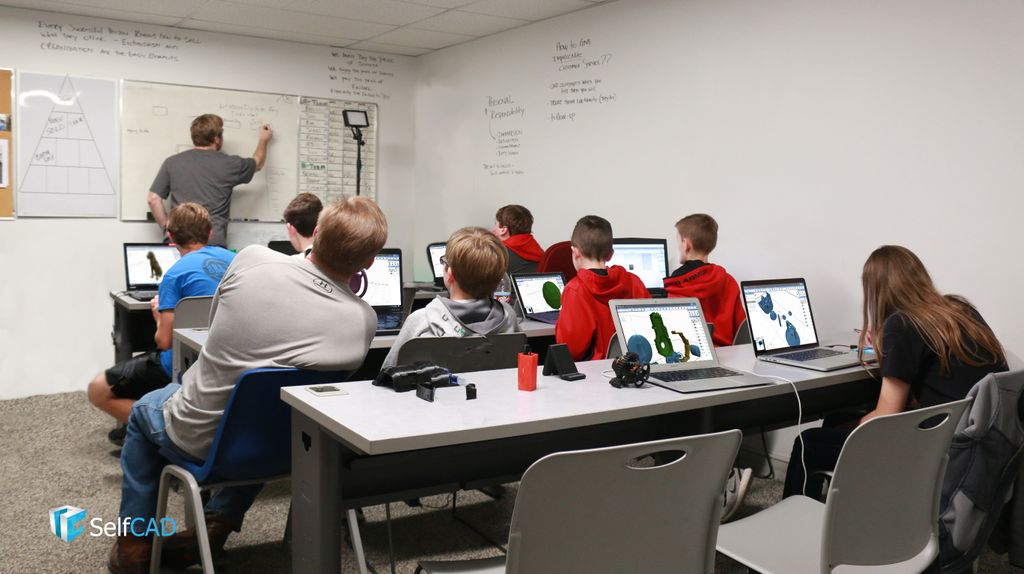 3D lessons bring excitement to learning and are very engaging. Those lessons help students to develop the skills of future engineers, designers, doctors and maybe even rocket scientists! Sounds fantastic? Well, it's now a proven fact: successful 3D modeling increases scores with tests.
Of course, 3D is as new for teachers as it is for their students. This is why the majority of teachers are looking for simple solutions to give their students the best learning experience.
To fulfill their requirements we SelfCAD added more features allowing both students and teachers to work on SelfCAD with pleasure.
While being quite an easy-to-use software, SelfCAD contains far more than just pretty design. The tools we offer are advanced and allow our users to create complex and detailed 3D models from scratch, to deform and sculpt objects. If designing models from scratch sound too scary and complex, our users can upload the existing 3D objects, modify them to achieve the desired look, shape, and size.
Another great part is that right after the desired shape is achieved, you can prepare your model for 3D printing and then print it only by making two clicks!
Watching our tutorials will help to quickly learn the editor and get examples of what can be created with SelfCAD. Watching the Tooltips - short videos explaining how certain tools work - will help beginners and non-professionals to understand the software better.
On our blog, you can find the latest 3D printing news, discover tools in SelfCAD, get inspired with new designs, and follow our step-by-step instructions to create various 3D printable objects. It's a huge honor for us to be listed as one of TOP-50 3D Modeling & Design Software blogs (read the whole article here) and we intend to continue developing more educating material for every level!
Finally, we're working on SelfCAD's compatibility Clever and offer a FREE educational license for students and teachers!
What else do you need to set your classroom for 2018/2019? Join over 150 American schools already using SelfCAD NOW!
Create your Educational account here
---
Do you want to learn 3D modeling? Check out our interactive tutorials.
Haven't tried SelfCAD yet? Register now, and try it out for free!
Was this blog post interesting or helpful?