How to Become a Better 3D Modeler
A Guide to Becoming A 3D Modeler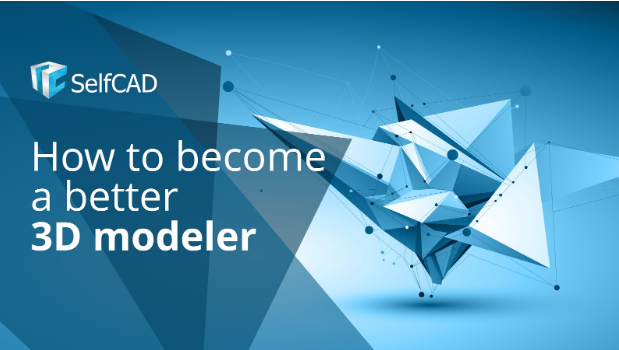 Getting started with 3D modeling
3D modeling is a process of developing a mathematical representation of any surface of any model in three dimensions with the use of 3D modeling software. The final product is called a 3D model. A person who works with 3D models is a 3D artist. Nowadays, 3D modeling is gaining popularity and is widely used in various industries, such as virtual reality, video games, 3D printing, motion pictures, and TV production, manufacturing and product design, marketing, and advertising.
Being a 3D artist is a dream job for many designers all over the world and if you plan to start a career of a 3D modeler then all you have to do is make your mark in the competitive industry through expert modeling skills you can achieve by practicing. If 3D modeling is your hobby already, it won't be difficult to shift it to a professional level as you have the experience and at least basic knowledge. All you have to do now is to be more focused on accuracy and preciseness to achieve better results faster.
If you just have started with 3D modeling, but you want to become a real professional in the 3D world, you have to gain some experience first. As you become better and better, you can start doing more commercial projects, get noticed soon, and open your own door to the bright future.
First things first, and this is what a beginner 3D modeler should do:
Find the best fitting software
To choose a CAD program that will be in line with your skills, here are a few tips to consider.
Know what your project is
There are various CAD programs out there that can achieve various tasks and some can't do certain tasks. For example, there are other programs that can do rendering like Sketchup ArchiCAD and Rhino and some can't. Some 3D modeling can allow you to slice your models under a single program, like SelfCAD but some don't allow this yet still they are very powerful.
3D modeling software is a workspace for any 3D artist. The toolset of the software is what an artist uses to give shapes to his creative ideas. Compared to a real-world, 3D modeling software helps to create amazing designs quite easily.
Find software depending on the goals of your project. And the level of your knowledge and skills. There's plenty to choose from, you can choose online software or go for a downloadable application. Here are some of the commonly used 3D modeling programs for each level of skills.
With TinkerCAD you can easily combine primitive shapes into more advanced by simply joining them like it's Lego. With this software, you can both join and subtract shapes. This software is extremely easy to use, and its advantage of being simple is at the same time a disadvantage of being too basic.

Blender is open-source free software with an extremely wide range of tools available. It is used to create animated films, visual effects, video games, 3D printable models, and any kind of 3D object generally, even the most complex one. However, Blender is far from being easy to use and learn. Even getting started and memorizing all the tools in toolset will require hard work and concentration. Which makes Blender the perfect option for professionals and very advanced 3D modelers. It will also require a lot of learning, as you first need to learn all the functionality before mastering it.
SelfCAD

allows us to cover the whole design-to-print flow and create complex 3D printable objects. This software was designed for beginners with advanced ambitions. Compared to other 3D modeling software, the workspace and toolset is easier to use, yet powerful when it comes to functionality. You can 3D print your prototypes right after finishing your model, because of an inbuilt slicer that prepares the object for printing and tools helping to fix the geometry of a 3D object to make it printable.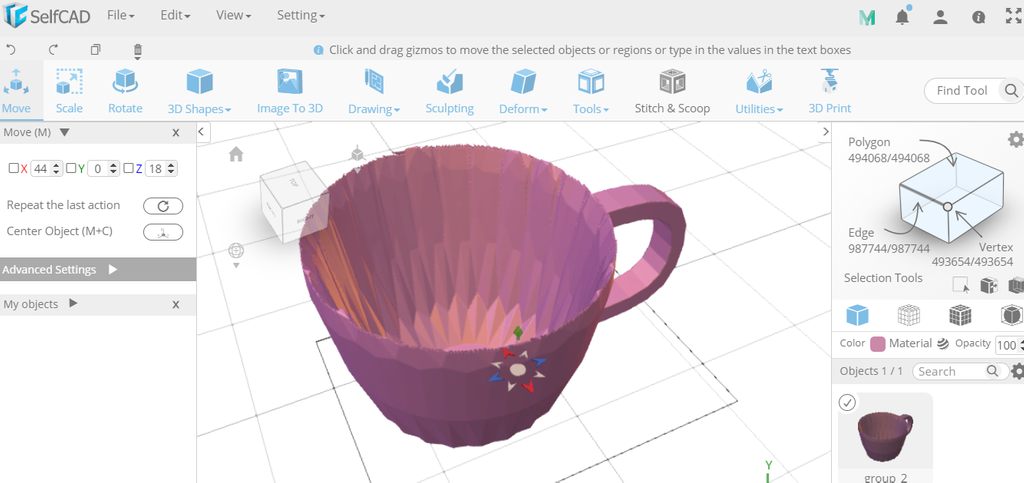 Cup being designed in SelfCAD image source: Sammy Ekaran, SelfCAD
When you choose a software for yourself, it's time to learn and master it! The best way to do it by yourself is to follow the tutorials and Instructables, this way you will learn particular tools and their abilities.
Find out more about other popular software in this article by All3dp.
Once you have chosen your preferred 3D modeling software, it's now time to focus on developing your 3D modeling. Here are the steps that we have prepared for you to get you started.
Take an Online Course on 3D modeling
If you have never learned 3D modeling in school, it can be a bit challenging to do it yourself. However, with the power of the internet, it's possible to learn these skills and improve to an advanced level.
Here are the sources where you can learn the basics of 3D modeling and how to use different 3D modeling software.
Udemy.com
This is a website where you can learn almost anything under the sun.
There are some quite good tutorials that will help to learn and understand 3D modeling software. They include:
Complete Blender Creator: Learn 3D Modelling for Beginners by Ben Tristem. This course will help you learn the basics of blender software to advanced levels. More than 23,000 students have taken this course.

SelfCAD Daily Showcase Course for Beginners

These are great courses that will teach you how to use SelfCAD from scratch to advanced level quickly and quite easily. Reviewing the functions and possibilities of each tool helps to really understand what can be done with certain features.

Learn Autodesk Fusion 360 by CAD craft. In this course, you will learn how to use Autodesk Fusion 360 in a step by step process.
You also can learn more about 3d modeling on Lynda, Coursera, CG Spectrum, 3D training, and also on 3Dmotive.
After learning the basics, choosing proper software, and improving your level by regular practicing, it is now time to start working on your projects.
To be successful, you need to keep the following in mind:
Be Versatile -

You can never predict the type of project you can be given, so you have to be open to new ideas. First, learn how to design various models to be on the safe side. This will allow you to expose you to many aspects of 3D modeling hence learn new workflows and techniques which otherwise you may not have known.

Learn how to use sculpting tools -

Operating 3D sculpting software is necessary if you want to become a professional 3D modeler. Many studios nowadays use sculpting software at an increasing rate. Sculpting software helps to take your 3D models to another level of detail and texture. Mudbox and Zbrush are two most frequently used sculpting software, which allows you to paint textures into your model. For example, using Polypainting in Zbrush and this is later on taken into a texture map. Programs like SelfCAD also has an option to add textures to the models.

Learn Texturing -

For any model to look furnished and real, you need to make sure that you apply textures. Learning how to texture will always make you stand out as a great 3D modeler because your output will always look like the real model that is being created.

Study and master Anatomy -

Because most of the models being created are the ones related to anatomy, learning anatomy will be a great plus in becoming a professional 3D modeler. And also, it will give you confidence when dealing with 3D models related to humans and human characters.
Basically, this is the process of becoming a 3D modeler. Though there are still other techniques you can follow to improve your 3D modeling skills.
The most important element is to practice and practice. The more you practice, the more useful knowledge you gain. Your skills become only better and you can sign up for more advanced projects. Start today, continue with small steps and become a professional 3D modeler soon!
---
Do you want to learn 3D modeling? Check out our interactive tutorials.
Haven't tried SelfCAD yet? Register now, and try it out for free!
Was this blog post interesting or helpful?