3D Printing In Medicine: Future Pills Will Be Personalized and 3D printed !
Drugs Can Now Be 3D Printed
3D printing is reshaping the medical industry. Before 3D printing was only used designing 3D models for professional purposes like creating prototypes, others are using it for designing modes for fixing broken parts, and others just as a hobby. Currently, not only can medical industries 3D print pills, but they can create entirely new shapes. Thanks to 3D printing!
Millions of people around the globe use capsules and medicine pills on a regular basis. Though drugs help us to feel better when we have an illness, many people have difficulty when taking them. A survey conducted by PMlive showed that more than 55% of people face difficulty when taking tablets. Some people find it hard to swallow some capsules because of their big sizes. Children and the elderly also tend to avoid drugs because some have an unpleasant taste, hence the need to address these challenges. The conventional manufacturing process of drugs only favors mass production of drugs but doesn't address the challenges
Researchers and scientists have now proved that it's possible to personalize drugs and 3D printing will be an answer to the challenges people face when taking capsules or pills. In future 3D modeling and printing technology will be the one used in designing drugs that suit a persons' needs. The appearance, size, and shape of medicine can easily be adjusted.
Patients with multiple chronic conditions usually have the challenge of taking numerous drugs several times a day. With 3D printing, they can only take a single tablet with all the requirements.
How 3D Printing Works
3D Printing starts with the design of a digital model of the product using a Computer-Aided Design Software. The model is then sliced using a 3D slicer into horizontal layers that are then fed into a 3D printer. You can use the in-built slicer of SelfCAD to slice your models or check out the list of the best 3D slicers on inov3d.net. Different materials can then be used to 3D print the model layer by layer creating a 3D product from the 2-Dimensional layers. 3D printing has only be used in creating medical devices like dental implants, hearing aids or prostheses and the latest advancement on 3D printing in medicine is towards the personalization of medicine.
Personalized Medicine
3D printing technology allows tablets to be customized easily in terms of shape, texture, and size which is always hard to achieve using traditional production techniques. It can produce tablets that are easier to swallow and have the appearance and taste that is acceptable to children and the elderly. In addition to that, the drugs can also be 3D printed with many ingredients and personalized according to the patients' age, race, gender, weight, and biomedical profiles. 3D printing drugs is done using a process called Fused Deposition Modeling together with Hot Melt Extrusion. This is a technique where domperidone is loaded into hydroxypropyl cellulose filament and it's then 3D printed to create hollow tablets. Alternatively, other researchers are testing a technique where prednisolone was loaded into PVA Filament and later 3D printed.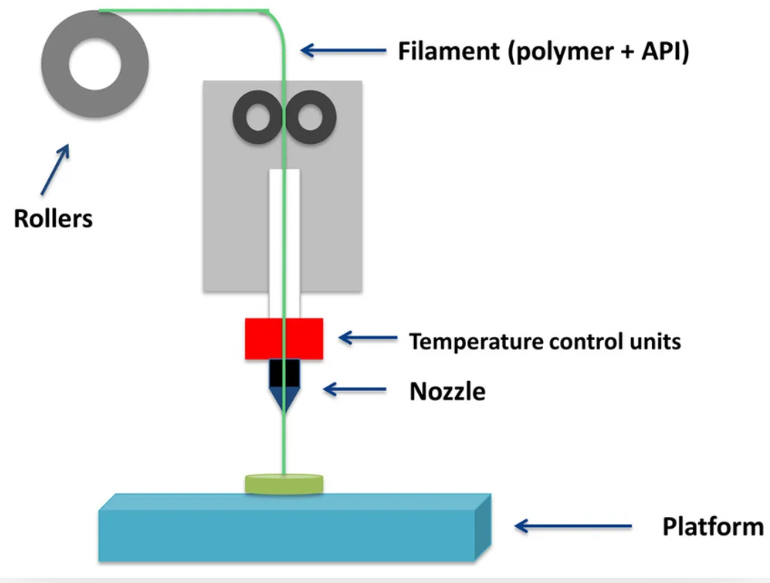 FDM with a drug-loaded filament. Source: ResearchGate
Another technology being used in 3D printing drugs is Inkjet 3D printing. This is where different active ingredients and inks are sprayed on the nozzle to deposit 3D structures in dosage forms. The layer by layer deposits of the ingredients forms 3D tablets.
The First 3D Printed Drug: Spritam
Spritam is the world's first 3D printed drug. It's used to treat Epilepsy. The drug was created using Zipdose technology developed by Aprecia Pharmaceuticals in 2015. Spritam was designed to help patients who struggle with their medication.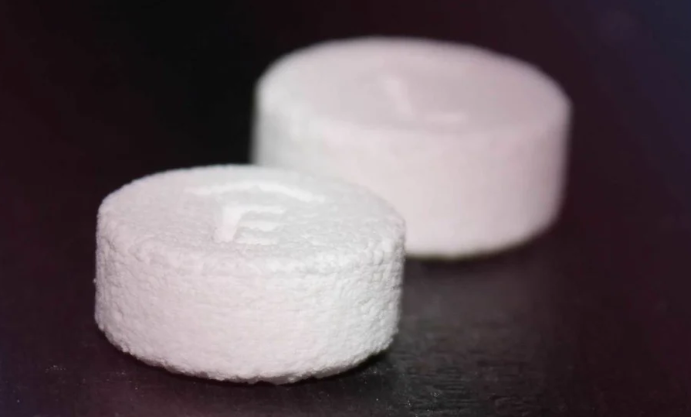 Spritam Tablet Source: aprecia.com
The ingredients of this drug (which is in powder form) are deposited in layers then joined using a liquid. Spritam tablet dissolves within seconds in water.
Currently, 3D printed drugs are not yet popular to many and it's a bit far from being an alternative to manufacturing drugs because 3D printing is hard and tedious when it comes to mass production. Also, though it's an interesting technology, there are many regulations that have been placed before they are released to the public. Because of the many risks that are associated with it. Nevertheless, this is a promising technology that will be much more beneficial once it's implemented properly. To learn more about this technology and the research that has been conducted, you can check out the Press Release by FDA Commissioner, Scott Gottlieb.
---
Do you want to learn 3D modeling? Check out our interactive tutorials.
Haven't tried SelfCAD yet? Register now, and try it out for free!
Was this blog post interesting or helpful?