3D Printed Housing: A Dream or Modern Reality?
With the help of construction 3D printing, it's now possible. Additive manufacturing is changing the world rapidly. Besides, the first plans for 3D printed houses started a long time ago. In the middle of the last century, engineers in Japan worked on robotic brick layering in order to increase the speed of building. Nowadays robotic concrete house printing is possible!
3D printed housing is considered to be a revolutionary solution to help people all over the world improve their living conditions. The construction process is a lot faster compared to the traditional building process, and simpler, as human workers are replaced by a smart machine.
3D printing companies use giant printers with robotic arms layering concrete filament to create walls. Those printers can either print a whole house, or walls separately which need to be connected later.
Let's see the best examples of 3D houses printed!
In 2014, a company in China increased the speed to maximum and printed 10 houses in just one day! A WinSun company used four 10m x 6.6m printers to spray a mixture of cement and construction waste to build the walls, layer by layer. With the help of cheap materials and lack of human labor, the price of such houses is around $5000, which opens huge possibilities for 3D printed housing development, especially in a country where a lot of people experience difficulties with the place for living. Chinese companies took a step further and also 3D printed a high-end villa and the first apartment building!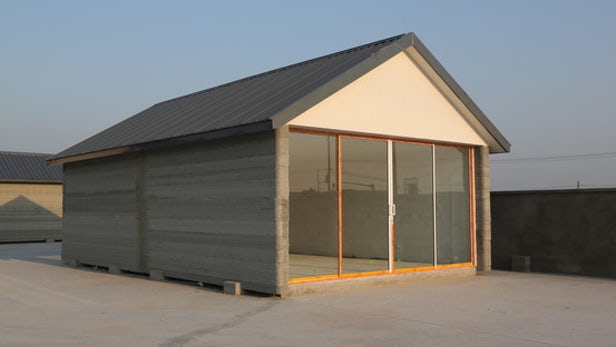 https://newatlas.com/china-winsun-3d-printed-house/31757/
In 2017 the first 3D printed house in Europe was constructed in Russia. The 400-square-foot home, or 37 square meters house, was built in just a day, at a cost of slightly over $10,000. The prototype house consists of a bedroom, a living room, a kitchen, and a bathroom.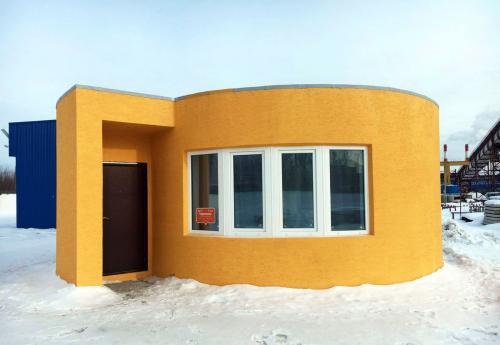 Image: (Apis Cor)
The main components of the house, including the walls, partitions, and building envelope were printed solely with a concrete mixture. Once the house has been completed, the printer was removed with a crane-manipulator and the roof was then added, followed by the interior fixtures and furnishings.
In 2016, the first 3D printed office was printed in Dubai. It's a world's first fully functional 3D printed building. The project was handled by Dubai Future Foundation. The building was printed in 17 days and constructed in 48h. The entire investment cost was only around $140 000, which is a lot more, than a single 3D printed house, but still incredibly cheap compared to traditional construction!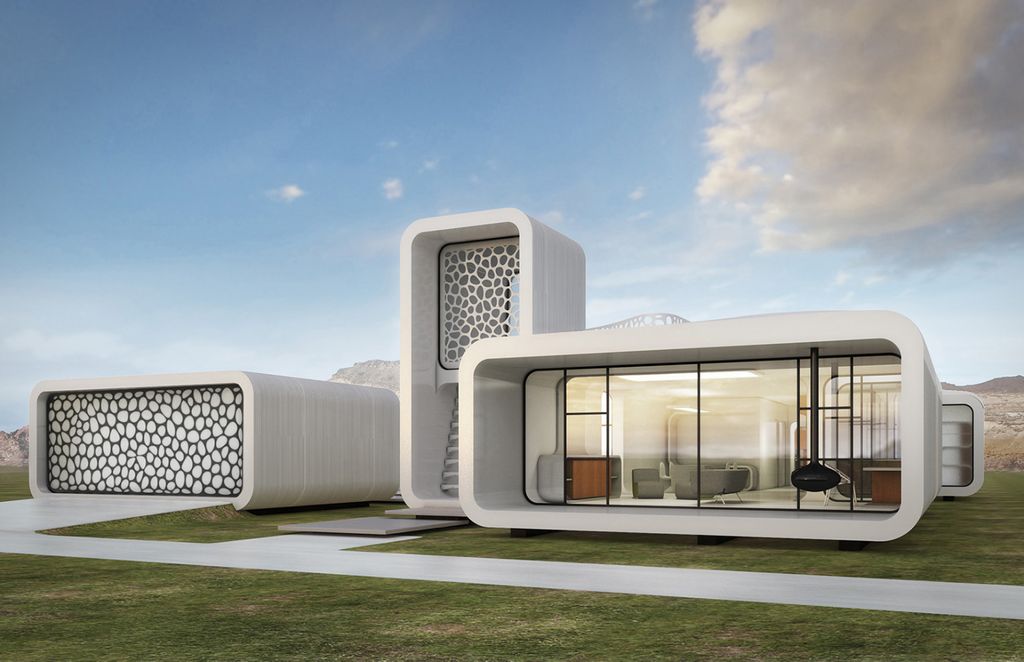 Image: (WinSub Global)
The office is the result of the partnership of WinSun Global - a Chinese company responsible for building 10 houses in just one day and authorities in Dubai. Nowadays, the 3D printable skyscraper is being constructed to be later printed in Dubai as the world's first.
In Amsterdam, Netherlands DUS architects built a small size 3D printed Urban Cabin as an example of what can be achieved with the use of 3D printing technology. Dutch architects used sustainable bio-plastic to create this object. Urban Cabin shows the concept of shelter, which is intended to show how additive manufacturing offers reasonable solutions for temporary housing for disaster relief.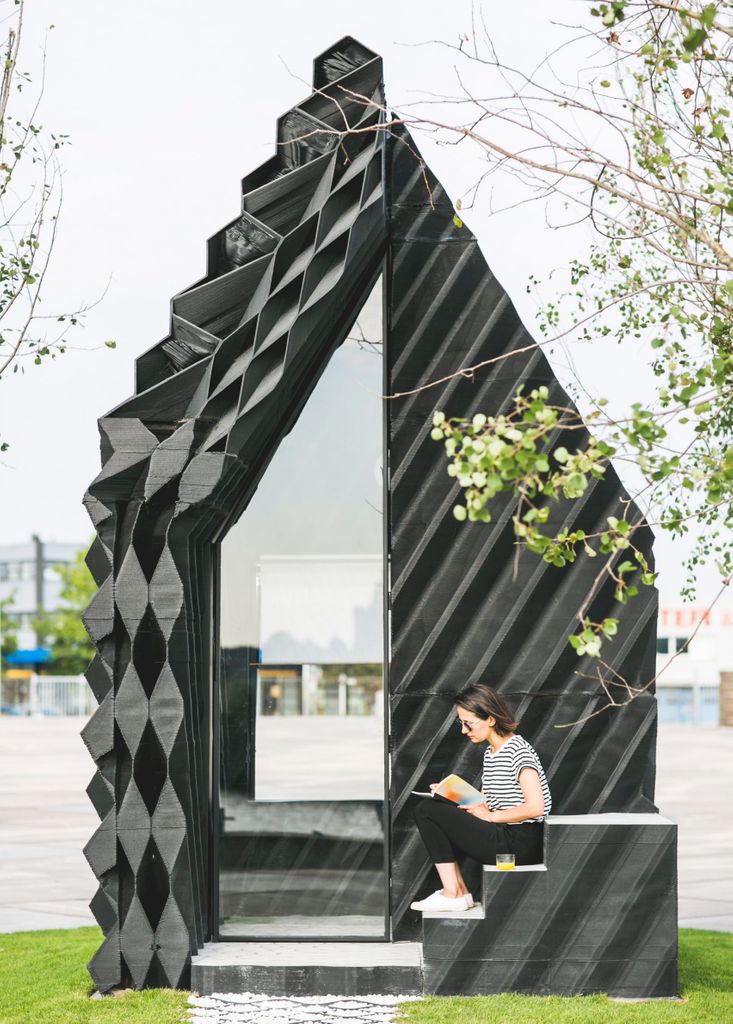 Image: (DUS Architects)
In the Netherlands not only people think of 3D printed houses as shelters, social housing, and temporary homes. In Eindhoven, there already is being developed a whole block of habitable 3D printed houses. The project is supposed to cut the costs and be a better solution compared to bricklaying. Five homes were designed and only the exterior and inner walls will be made with a 3D printer located off-side. All the necessary installations will be added after the construction is done. Even though the project is in the development stage, there're already over 20 Dutch families applying as potential customers!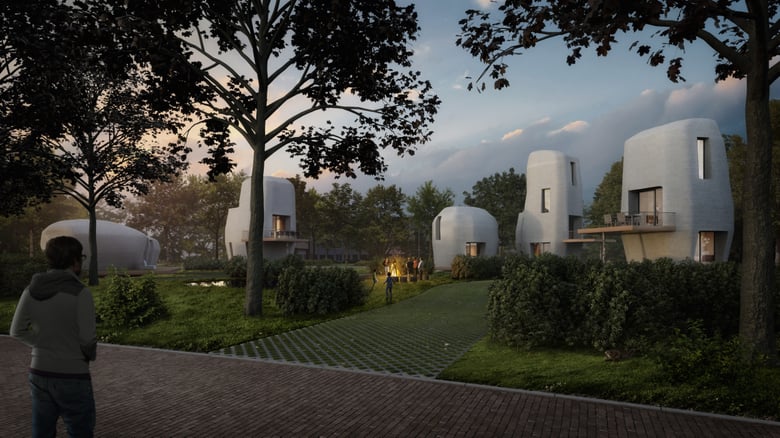 Image: (The Guardian)
The world's first family moved into a 3D printed house in July 2018, as 3D printed homes are part of the innovative French social housing program. Overall the 95-meter house took 54 hours to print, excluding the four months taken for contractors to fit windows, doors and roof fixtures. The building cost of the house totals an estimated £176,000, which is 20% cheaper than an identical construction with traditional methods. However, it requires a lot to make a 3D printed house and make the whole installation habitable.
With the development of 3D printing technology and different 3D printers, such houses will be available to print anywhere, no matter what is the climate and how far from civilization are we. Which means, sooner or later we'll be able to print houses not only on Earth but also on Moon and Mars!
---
Do you want to learn 3D modeling? Check out our interactive tutorials.
Haven't tried SelfCAD yet? Register now, and try it out for free!
Was this blog post interesting or helpful?