3D Printed Fashion
3D Printing in the Fashion Industry

!
3D printing has revolutionized such industries as prototyping, architecture, and engineering recently. Fashion goes with art hand in hand and is constantly changing. Fashion defines modern and so does technology. Fashion designers become more interested in non-traditional methods of producing fashion items, as modern technology can help better express the designer's vision. This is why the designers started to experiment with 3D printing technology around 2010 and after that, the uniting of two different worlds only got further, as modern technology has a lot to offer when it comes to solving complex interdisciplinary design problems.
3D printing is already being widely being used to create new types of art and fashion. Modeling and printing technology allows producing complicated, even impossible-shaped designs, to use creativity and innovation together. 3D printing allows designers to use new techniques and materials and changes the whole process of creating the collection. As you can see the printed results of your vision within a few minutes or hours, you can change and modify it certainly quicker, than using traditional manufacturing.
Fashion designers use 3D modeling to create new accessories of different shapes and sizes, to design and 3D print jewelry in various materials. With the help of 3D modeling and 3D printing now unimaginable patterns can be created and released. Fashion houses, like any other industry using 3D printing technology, first prototype their ideas and have the ability to 3D print an entire fashion collection.
In 2013, a Dutch designer Iris Van Herpen released a pret-a-porter collection with 3D printed elements. She used laser-cutting, parametric design to create precise and unusual shapes for the collection. And later this year Dita Von Tease modeled and released the first fully 3D printed dress and it started the wave of interest to modern technological solutions combined with high-end fashion.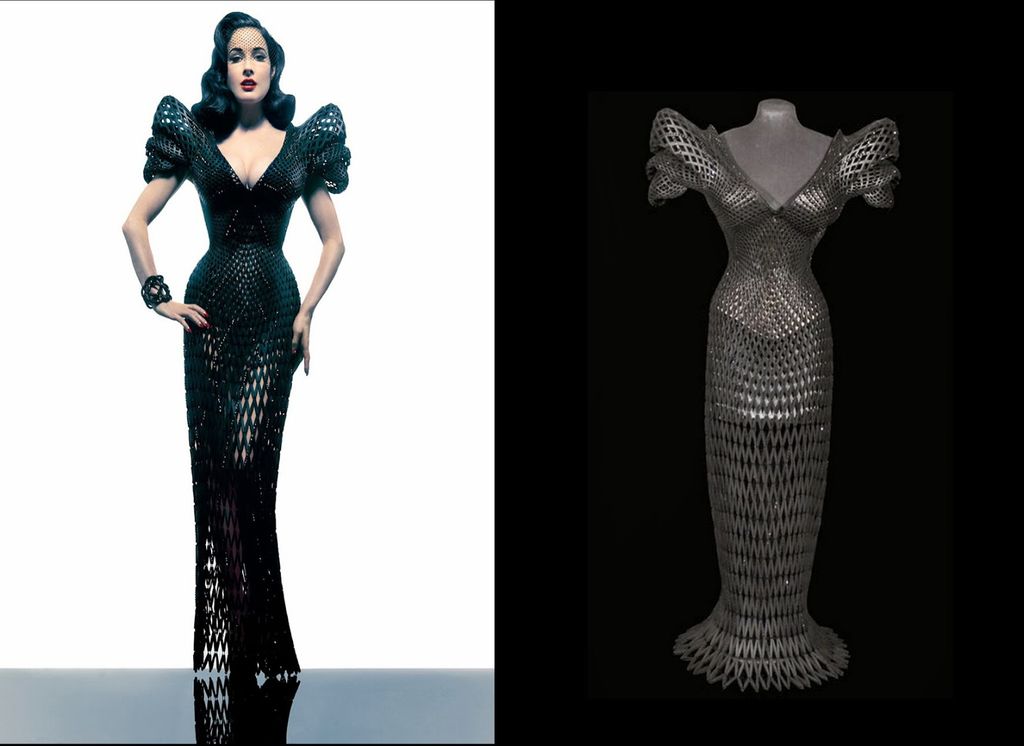 image source: Google
3D scanning allows perfection in design and considered to be a new revolutionary solution for fitting. With digital tailoring, it's now possible to create fashion that literally fits everyone. This year, Demna Gvasalia, the creative director of Balenciaga presented the idea of creating jackets based on 3D scanned models' bodies. After printing the 3D scans, the garments were molded and cast with a lightweight foam. The finished jackets were produced by bonding materials such as tweeds and velvets to the foam.
Printing prototypes help to craft and change the design quickly. The variety of printing materials gives the artists and designers true freedom of expression and a chance, that the piece will be one of a kind. With countless post-processing options, there is a really huge change, that fashion will be unique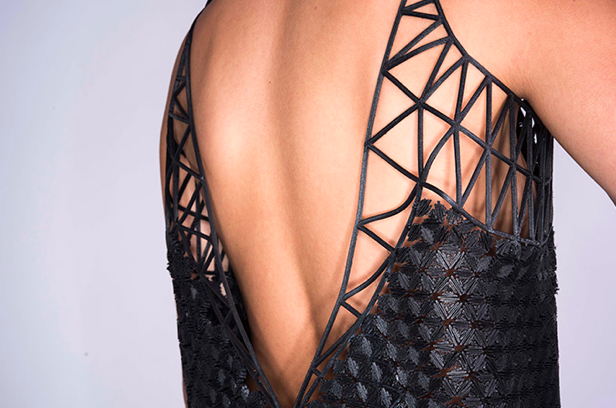 image source: creativemarket.com
Nevertheless, everything comes with challenges. The basic problem with 3D printed clothes is the materials and inability to physically wear such pieces on an everyday basis. As for now, 3D printed clothes cannot match the wearability and softness of a cotton T-shirt or a silk dress. The synthetic materials which are now used to 3D print are not comfortable or flexible enough to make wearable clothes from it, as they are also not breathable.
What lies ahead of 3D printing in the fashion industry?
3D printing in fashion is still in its primary stages, but it definitely has the potential to grow. Just imagine the future: shoes, glasses, and clothing perfectly adapted to you with the help of 3D scanning. But at present, 3D printing is more suited for accessories and this field can be easily changed, as 3D printing from different materials is widely developing. If we think positively, we may expect the opportunity to be able to print clothes at home simply by buying and downloading the design! Let's see how 3D printing will change the fashion industry this year!
Have a great day and try creating your own fashion piece in SelfCAD!
---
Do you want to learn 3D modeling? Check out our interactive tutorials.
Haven't tried SelfCAD yet? Register now, and try it out for free!
Was this blog post interesting or helpful?